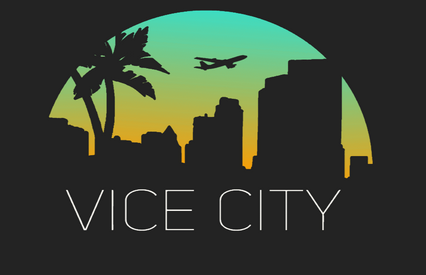 Vice Market URL and Links
http://vice2foau7nnays52oifj42uqdc6tptrlhxik3xbm6mds2hecglnqsad.onion
http://vice2hanewfajnjztpjk42ujprwsg6ytfvtn3bjyzwisc2il7r7vssad.onion
http://vice2hgarygtloheiqsn5uvnwlnvvpzpkpcmzbl23lq4nukmvcz2ieyd.onion
Date: 8, December, 2023
Status: Active
Vice City Market
Official website: https://vicecitytor.com
Of course, the pandemic has been harsh on all the world trading industry, and the darknet markets weren't an exception. It's hard to even roughly count the number of platforms that were shut down during the past few years.
However, the dark web community is strong and resilient when it comes to bouncing back. It managed to survive plenty of great loses and can cope with many more because its nature abhors the vacuum. Hence, a whole plethora of the new market players has emerged since 2020, including the Vice City Market.
It's nice to see that more newcomers decide to prioritize security and get more involved with the website's community. That's why Vice City's goal to show an unprecedented level of operational security and user support deserves appreciation. However, let's see if they can live up to the standards that they established by this declaration.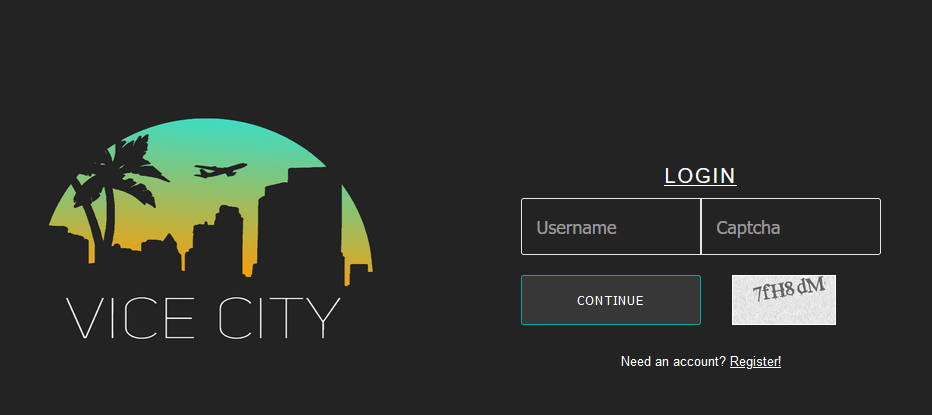 Main Info About the Vice City Market
Basically, Vice City attempted to employ all the currently popular security features, like Escrow with Multisig, wallet-free payments, and mandatory 2-factor authentication with Pretty Good Privacy (PGP) encryption. Unfortunately, it doesn't accept Monero (at least for now) or any other cryptocurrency other than Bitcoin. Yet, this policy has its advantages and disadvantages, so it's hardly a major flaw.
This darknet market promises both vendors and buyer the ultimate user experience. It claims that the platform's administration is intended to collect the customer and vendor feedback alike to develop a marketplace that accommodates the needs of every user, regardless of your role or status.
Its product selection isn't impressive. But they opted for an "all-types of listings" marketplace, which means here you can find all kinds of drugs, counterfeit or fraud related products, and illegal services. Still, due to the harm reduction policy, some products and services cannot be found on this platform. Be sure to check the list of banned items and services before you register.
| | |
| --- | --- |
| Name | Vice City Market |
| Operating since | May 2020 |
| Status | Active |
| Specialization | None, main categories include drugs (except for fentanyl), fraud, forgeries, and services |
| Escrow with Multisig | Yes |
| URL | vice2foau7nnays52oifj42uqdc6tptrlhxik3xbm6mds2hecglnqsad.onion |
| Short URL | dark.pe/vcity |
| Traditional Escrow | Yes |
| Finalize Early (FE) | Yes (for eligible vendors) |
| Wallet-free payment | Yes |
| Accepted Currencies | Bitcoin (BTC) |
| 2-factor Authentication with PGP encryption | Yes (mandatory for vendors) |
| Instant withdrawals | Yes |
| Vendor Bond | $99 |
| Commission | 4-6% |
Vice Market URL & mirrors:
Before Getting Started
Surely, darknet markets provide primarily illegal goods and services. This means that both scammers and authorities will be at your back. You need to learn how to make your actions untraceable if you want to avoid falling into their traps.
How can you become this dark web ninja? Here are some basic steps that might help:
Access the darknet markets through a Tor browser (onion link will have an .onion extension) or I2P mirrors because both Tor network and I2P software encrypts your traffic.
Make sure the JavaScript is disabled in your Tor browser. Your Security Level must be "Safest". If it's not, change it in the Settings section (Settings → Privacy & Security → Security Level → Safest, or you can click the shield icon in your address bar).
Install and turn on a VPN service.
Check the markets' URL before accessing them. Use only the links that you've got from the trusted sources. We recommend verifying them directly on the site or on the special forums, such as Dread.
If you don't have a clue about how PGP works, learn it. You'll need it to encrypt, decrypt, and sign messages while buying or selling on a darknet website. Obviously, store your PGP keys in a safe place.
It's preferable to use operating systems with enhanced security & privacy capabilities, like Tails or Whonix, when you browse the dark web.
Use a dedicated system and a separate browser for your darknet business. Don't mix it with your clearnet activities.
Remember that none of your account details, feedbacks, messages, comments should contain any piece of data that could be traced back to you.
Keep the important information (passwords, logins, PIN codes, mnemonic phrases, etc.) safe from prying eyes.
Learn more about Bitcoins, blockchains, and cryptocurrency transactions. Of course, the majority of darknet markets provides extensive guides on the payment process, but mistakes, such as sending the money to the wrong address, could be impossible to correct. Thus, it might be useful to be a bit ahead of the game here.
Account Registration
The Vice City's registration procedure is pretty standard, there is no warrant canary or public PGP key files to download and verify. It would also be very useful if users could verify mirror links directly on the website before creating an account or logging in because the attempts to spread phishing links across the darknet community has already been reported. Settings might seem a little tricky at first, but even inexperienced users will be able to figure them out.
How to Create an Account
Anyway, there will be no extra complications, such as writing down or copying mnemonic key (phrase). Once you've solved the captcha as a DDoS protection (it might take more than one try, 'cause they're a bit confusing), all you need is:
Username;
Password (+ confirmation);
PIN code (+ confirmation);
Captcha.
When you see the green "Registration Successful" banner, it's a sign that you're free to log in. Accessing your account is a 2-stage process:
Enter your username (together with captcha, of course);
Fill in your full credentials, e.g. username and password.
Sometimes the website experiences severe distributed denial of service (DDoS) attacks or technical difficulties, so be patient and don't panic right away if you can access the main onion URL or mirrors.
How to Change the Settings
Now you can start adjusting your Settings (you can find them in the Account section of the top menu bar). It's better to start with PGP encryption (Wallet – Edit profile -PGP). You'll need to download and store Vice City's public PGP key. Then you have to use it to generate your private PGP key. From now on, all your communication on this platform will be encrypted. You can also use your PGP keys to manually encrypt sensitive information, such as your shipping address.
In addition, vendors are obliged to set up a 2-factor authentication using PGP encryption. For buyers, this feature is optional, but highly recommendable. This means that besides entering your standard "username, password, captcha" credentials, you'll have to sign an encrypted message with your PGP signature. This is a safe way to prove your identity in case your account details get compromised.
You can do it in the Account Settings section after attaching your PGP key to your account. All you have to do is click "Enable 2-FA" button. As soon as the message on your screen changes to "2-FA is currently enabled", you're safe to proceed with the shopping.
Multisignature Transactions
Vice City offers 3 payment options:
Traditional Escrow;
Escrow with Multisig (2/3);
Finalize Early.
What's the Difference?
The first option is the most common among the darknet markets. It implies that you transfer the funds to the market. The platform holds your money in an escrow, until you confirm that the order is complete, and you're satisfied with the provided services. Then and only then the seller receives the payment.
Finalize Early (FE) allows the vendor to get the money as soon as the order is shipped. This method is faster and sometimes more convenient, but at the same time it's way more risky because your refund and compensation options become incredibly limited. Some users also prefer this method to avoid crypto fluctuations. Of course, only the most reputable vendors are eligible for the FE status, still it's better to choose this method with vendors you've previously been in contact with, and they've proven that they're trustworthy.
Multisignature Escrow feature is the most secure payment method out of all three of them, yet it can also be the most time-consuming. Basically, 2/3 multisig means that the funds can't be released from the escrow, until two out of three parties (vendor, buyer, market) provide their signatures to confirm the transaction.
How Can It Be Useful?
It can help you get your money in case of exit scam, unfortunate errors, or simply shady attitude from one of the parties involved:
Market + buyer signatures. Buyers can get a refund without contacting the seller.
Market + vendor signatures. If a customer refuses to cooperate, postpone finalizing the order for no legitimate reason, or simply don't respond, a seller can still receive the payment.
Vendor + buyer signatures. When you don't trust the market or just want to solve the dispute without the administration's involvement, you can discuss your issue directly with the other party and transfer the money.
How Do I Start?
You need to make some additional changes to your Account Settings before you start using the Multisig option. You'll need to set up and prepare:
a multisig BTC e-wallet (e.g. Electrum);
a multisignature Bitcoin address (it always begins with "3");
Bitcoin Public & Private Keys.
Keep in mind that Vice City accepts only Bitcoin payments. Of course, Monero as a cryptocurrency displays advanced privacy & anonymity protecting abilities, but it also has no decent multisig options. Thus, it's hard to determine whether it's a flaw or an inconvenience. Anyway, the darknet market plans to implement Monero in the near future, so this problem should be solved soon.
Dealing with all this information might be complicated at first, but you have to remember that going for the Escrow with Multisig payment option saves you a lot of trouble in case something goes wrong.
Making a Deposit
Generally, you won't have to deposit funds due to the availability of wallet-free payments. You don't need to have any money on your account's balance to place an order. As soon as your order is created, you'll receive an invoice with a static amount and a BTC address for this particular transaction. After that, you transfer the exact amount of money to the market directly, and it holds it in escrow until the order is finalized.
As you can see, in wallet-less orders no in-built market wallet is required, only your own e-wallet (e.g. Electrum) will be necessary. As a result, you don't risk losing balance because you had to store extra money. This greatly reduces the risk of becoming a victim of exit scam.
In rare cases when you have to make a deposit, you'll have to send BTC to the unique wallet address tied to your account. But make sure that it's not a phished address, verify it with the PGP Deposit Address Sign Key, provided by the Vice City Market on Signed addresses page. If it's really a unique PGP signed address, it's safe to initiate a transaction. The money will be transferred, as soon as there are 3 confirmations on the blockchain. You can check your wallet balance in the top right-hand corner of the website.
Browsing Vice City Market
Obviously inspired by the neon and flashy 80s aesthetics of the famous Rockstar game "Grand Theft Auto: Vice City", this marketplace isn't as acid and colorful as you might expect. Its dark background suits the illicit nature of the trading platform and allows your eyes to rest.
Its design is user-friendly, and its layout is easy to navigate. Moreover, the Vice City Market developers built the platform from scratch without using anyone else's code. The site offers a wide selection of product categories, but the number of listings needs to be improved.
Selecting a Product
Vice City is a relatively new darknet market. However, despite its efforts to attract more vendors and customers, such as setting a really affordable vendor bond ($99) and having a very low commission rate (4-6%), its product range remains small compared to the size of the major dark web market players. The platform offers slightly more than 7000 items in all the major categories which include:
Drugs (cannabis, benzodiazepines, opioids, stimulants, psychedelics, dissociative drugs, ecstasy, steroids, prescription drugs, etc.);
Fraud (bank account details, credit card info, account credentials, etc.);
Forgeries (counterfeit products, like watches, jewelry, etc.)
Services (hacking, creating fake documents, etc.).
If you're looking for some specific items, you can check the subcategories. In addition, clicking on the magnifying glass will open a dropdown menu that contains everything to help you find the listing you want, including filters, like search terms, price, category, or ship from/to. You can sort the items by price, date, and relevance, or display best-selling listings only.
In this case, the small number of listings works as an advantage, making it easy to find the products or services you want. Plus, the overall selection of the most common items here is sufficient to satisfy the basic needs.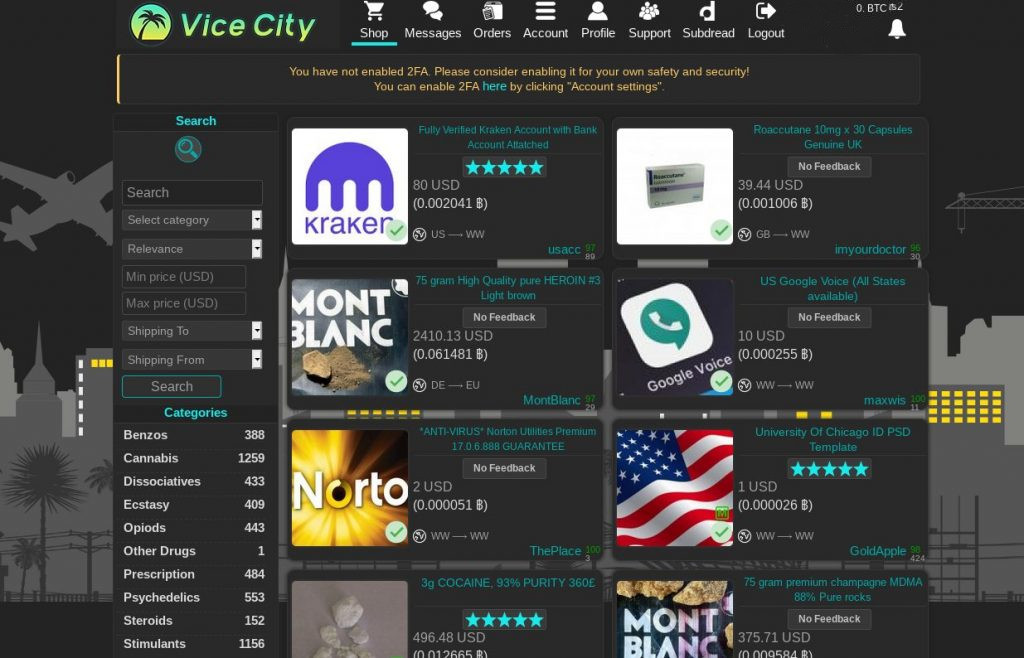 You can learn the major facts about the product from its short description. It displays item's title, average rating (ranging from 1 to 5 stars), price (including bulk price), vendor's name, number of sales, and percentage of positive feedback. When you find a potentially interesting listing, you can click on it and visit the page with the more detailed information. It has 3 tabs, each one containing its own valuable info about this product/service.
Listing
Price in BTC and other currency of your choice (you can choose the one that suits you most in your Account Settings);
Accepted payment methods (traditional Escrow and/or Multisig);
Quantity in stock;
Refund & reship policy;
Shipping info.
Feedback
Feedback from buyers;
Points out the product's advantages & disadvantages;
Helps to identify scammers.
Discussion
Questions to the vendor about this particular product;
Only users with at least one positive feedback can ask them;
Provides you with the better understanding of the product;
Gives you a chance to see how this vendor treats the customers.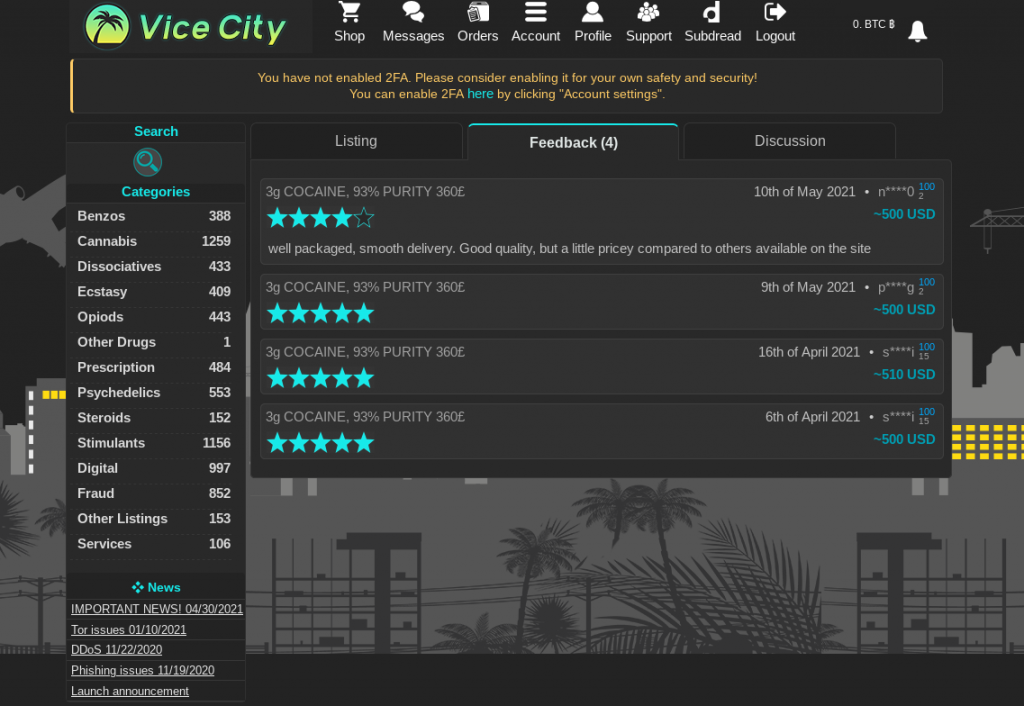 Banned Listings
Recently, many darknet markets continue to increase their awareness and adopt a harm reduction policy, designed to avoid hurting innocent people. Vice City decided to proclaim that they have moral standards too and prohibited the following products and services from appearing on the platform:
Explosives, weapons, and other items that can hurt living creatures;
Hitman or murder for hire services;
Fentanyl or related substances;
Stolen data with information on users under the age of 21;
Doxxing and any doxxing services;
Pornographic materials of any kind (including "porn accounts").
Vice City's Vendors
Although Vice City needs to work on its promotional campaign to attract more vendors, you can still find some of the most established and reputable sellers on the darknet market. However, with the low vendor bond and unclear admission standards, dealing with the other providers might seem a bit risky.
If you access the vendor's page, you'll see that it's also divided in tabs, named Profile, Feedback, Discussion, PGP key, Shop:
Profile contains the basic info, including last online presence, number of sales, accepted payment options, feedback score, FE status, etc. Make sure to check such vital details as shipping preferences (some sellers don't ship internationally), location (most of them are EU or US-based), refund & reship policy, or accepted payment methods.
The Feedback section can give you a thorough understanding of whether you can trust this vendor or not.
Discussion shows the seller's communication style.
PGP key you can use to encrypt private communication.
Shop exhibits all the shop's listings.
How to Place an Order
On the one hand, placing an order on Vice City is easier because you don't have to add funds. But on the other hand, multisignature payment process and 2-FA PGP check can make things really complicated.
PGP Security Challenge
The last step before ordering something is decrypting a message using your public PGP key to get a special code. You need to enter it to prove that you're not a spamming bot and confirm that you're not ordering this item accidentally. Generally, it won't take much of your time, all you need to do is:
Go to the listing's page;
Scroll to the bottom, until you see the "PGP Security Challenge" section;
You'll see the message encrypted with your public PGP key;
Decrypt the displayed message;
Enter the decrypted code;
Select the amount you need;
Choose the preferable shipping method;
Click "Buy".
Byuing from the Vice City Market
Obviously, the whole process of placing an order will slightly vary depending on your payment method. However, you can choose traditional Escrow, Multisig, or FE, the fundamental steps of the algorithm will remain the same:
Check if the amount you're about to pay is correct;
Fill in your shipping address (it's better to encrypt it with the vendor's public PGP key);
Enter your PIN;
Copy the amount of BTC and bitcoin address;
Use them to send the payment from your e-wallet or in-built market wallet;
If your transaction doesn't get 3 confirmations on the blockchain within 3 hours, the system automatically voids your order and sends your money back (except for a transaction fee). Hence, you'd better set your mining/transaction fee high enough, so it would be confirmed within the existing time limits.
When the transaction is confirmed, the vendor receives the order info.
You'll be notified when the order is shipped. If you're using an FE option, you should finalize the order at this point, so the seller could get the money. Otherwise, the vendor has to wait until you receive the package and confirm that everything matches your expectations. Still, don't forget to mark the order as complete because that's the only way that the seller can receive the payment.
In case you're dissatisfied, you can open a dispute or discuss the problem directly with the supplier.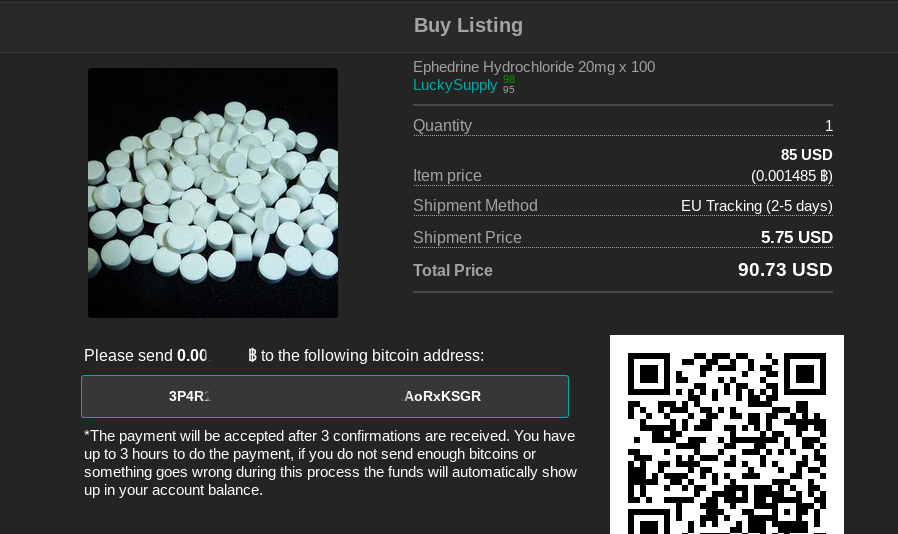 Conclusion
Vice City is a market that takes pride in its operational security. Indeed, they have features they can be proud of, including 2-FA PGP encryption for signing in and placing an order. Plus, wallet-free platforms, like this one, support wallet-less orders, so adding funds is no longer necessary. Escrow with the multisig option significantly increases your chances of getting a refund in case something unfortunate happens.
Yet, there certain aspects that Vice City needs to improve. For instance, the site could put extra efforts in broadening their product selection or gathering feedback from users to provide better support. Moreover, there are still some technical difficulties that require attention. Overall, this is a trustworthy marketplace that with a bit more dedication has every chance of becoming a star player.