Tor2Door Market URL
http://qgma4eviafgc73ttocqx4h74l7xccywplbqgjyp6yuqxqjwolfxziuid.onion
Tor2Door Mirror Links
http://yzrrne3psutlm4agkj67epp7l57yf32dthmehwkr456s5xac2euqucyd.onion
http://2m2kr247qr4vtidgu4357btcd5fsenkcz5cknthst6bitr5ae2rsdiqd.onion
Date: 3, February, 2023
Status: Active
If you're looking for a secure and user-friendly dark web market, visit Tor2Door. It's a brand new project with a unique design that carries out consistent security testing.
| Item | Information |
| --- | --- |
| Name | Tor2door Market |
| Established | Aug-2020 |
| Rating | 9/10 |
| Main url | qgma4eviafgc73ttocqx4h74l7xccywplbqgjyp6yuqxqjwolfxziuid.onion |
| Short URL | dark.pe/tor2d |
| Security Issues | No |
| Active Warnings | None |
| 2 Factor Authentication | Yes |
| Finalize Early | Allowed |
| Commission Fee | 5% |
| Vendor Bond | 150 USD |
| Forced Vendor PGP | Yes |
| Total Listings | 8000 |
| Business volume (weekly) | No data |
| Current Status | Active and Running |
Tor2Door is a young and promising dark web marketplace that opened its virtual doors last June. It can boast a sleek and modern design. Its administration accentuates that usability and security are the two main priorities of the project.
The target audience of Tor2Door is dark web users with little experience. This marketplace is exceptionally customer-friendly and features a highly intuitive interface. It brings something new to the table and people's interest in it has been growing steadily ever since its inception. Below, we'll analyze the main competitive benefits of Tor2Door in detail.
Design and Interface
Tor2Door looks modern and simplistic. Its team didn't copy the design template of other popular darknet markets. Instead, it put a lot of effort into developing something unique and visually appealing.
When you open the Tor2Door homepage, you see a menu with all market categories on the left. Below, you can find the current Bitcoin and Monero exchange rates, displayed in multiple currencies. On top of that, there is an account bar with account options and an order panel. The order panel is very comprehensive and enables you to quickly review your past and latest orders. Plus, there is a dispute section on the site and a statistics page with all the account information. On the one hand, this structure is typical of dark web marketplaces. On the other hand, the Tor2Door team tried to drive every detail to perfection.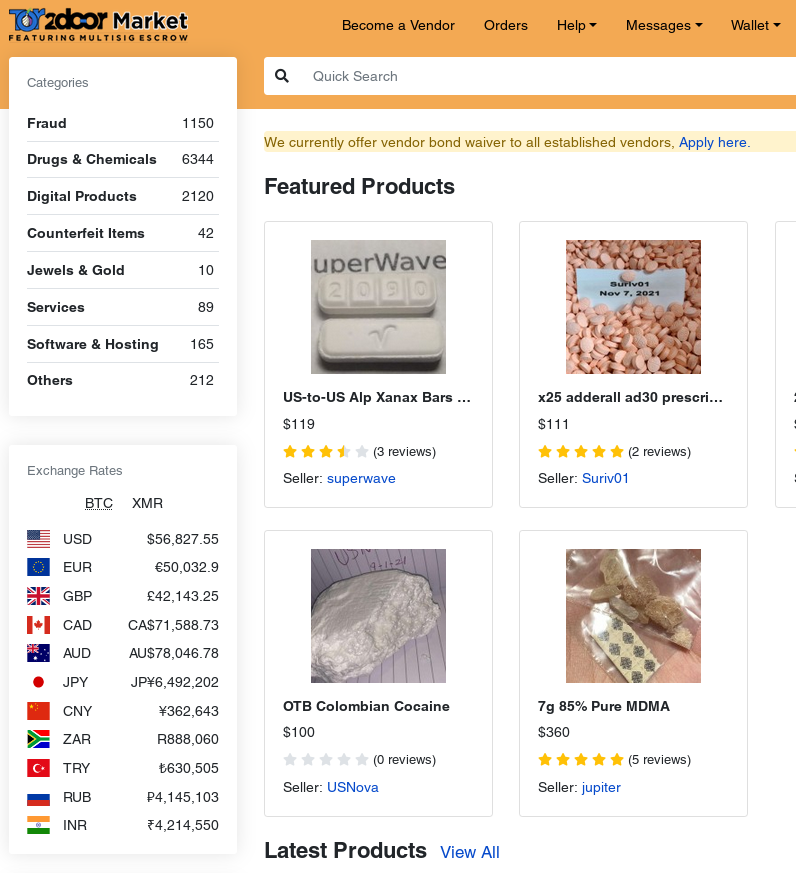 Features and Security
Tor2Door accepts Bitcoin and Monero. It features built-in wallets where users can transfer these coins. When buying and selling products, you can choose between traditional escrow payments and multi-signature escrow. Trusted vendors can allow early finalization. Both vendors and buyers have their trust levels and user levels. The former depends on the feedback you get, and the latter might vary depending on the order placed. The marketplace also features JABBER and XMPP notification support.
From the onset, the Tor2Door administration collaborated with penetration testing experts and tested the site for any potential flaws. When the testing was over, they reported that minor flaws were detected and patched in around half an hour. The administration promises to carry on with consistent testing to ensure there are no security flaws. The marketplace supports PGP and uses it for message encryption and 2FA login.
In general, Tor2Door can be characterized as a very secure market that you can entirely trust. However, you should keep one hazard in mind. Sooner or later, someone will try to monetize on the Tor2Door success and will create phishing links for this site. When trying to access the marketplace, it would be wise to double-check the reliability of the link that you're planning to click.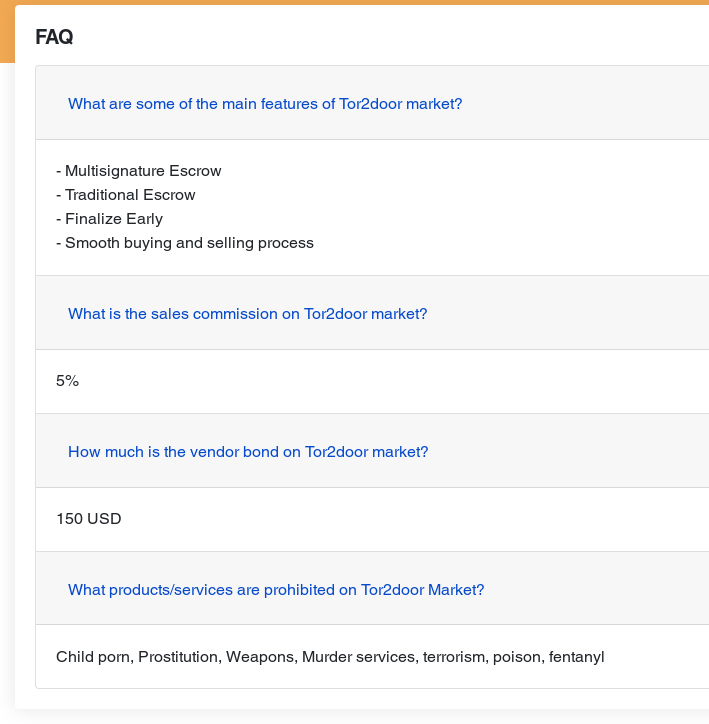 Final Thoughts
While there might be many marketplaces on the dark web, very few of them deserve honest praise. The scene is oversaturated with short-term projects that shut down earlier than manage to build a more or less solid reputation for themselves. Tor2Door was built from scratch, which might hint at its potentially longer life expectancy. It looks head and shoulders above most older marketplaces. Even though Tor2Door has just slightly over 400 listings right now, it seems to have impressive growth potential. Customers' reviews about it have been overwhelmingly positive. The only challenge that you might face when trying to access it are phishing links — so please make sure to always use only trusted ones!
How to Become a Vendor on Tor2door?