World Market Darknet Link
World Market – Exit Scam confirmed! You could try another darknet marketplace

Status: EXIT SCAM!

World Market Darknet Review
The popularity of online shopping has grown enormously over the past few years. Of course, it is easier to find a trustworthy marketplace when you need to buy groceries or a pair of shoes. But you have to be extra cautious when it comes to the illicit territories of the dark web trading platforms. Detailed and honest reviews, such as this one, can provide a proper foundation if you seek to research a certain marketplace.
Keep in Mind
This review has no intention of promoting illegal activities or encouraging you to access the darknet. On the contrary, it contains many warnings and precautions. So, if you eventually decide to get involved into dark web trading, you were aware of the possible consequences and acted at your discretion.
World Market is a relatively new place where you can buy and sell items that aren't exactly legal. Old darknet users can find it attractive because of nostalgic motives, its interface resembles the layout of the famous Alphabay and Empire Market. Its creators claim to honor the legacy and preserve the values of these darknet market pioneers. Others might pay attention to this marketplace due to its continuous growth. Anyway, let's dive deep and find out what World Market has in store.
Brief Description & Basic Features
| | |
| --- | --- |
| Name | World Market |
| Established | November 2020 |
| Status | Running |
| URL | world6zlon7pj467mezxk743mwz7bhhyo7nynymai23f4f7vdtbbndyd.onion |
| Short URL | dark.pe/world |
| 2 Factors Authentication | Yes (mandatory for vendors) |
| Escrow | Yes |
| Multisig | No |
| Finalize Early | For eligible vendors |
| Pretty Good Privacy (PGP) | Yes |
| Payment Currencies | Bitcoin (BTC) & Monero (XMR) |
| Commission | 4% (paid by vendors, no fee for buyers) |
| Vendor Fee | $650 (non-refundable) |
| Number of listings | approximately 10 000 |
| Autoshop | Yes |
| Wallet-free payments | No |
Onion URL:
http://world6zlon7pj467mezxk743mwz7bhhyo7nynymai23f4f7vdtbbndyd.onion
Alternative Mirrors:
http://world6zlon7pj467mezxk743mwz7bhhyo7nynymai23f4f7vdtbbndyd.onion
World Market Login Page


Product Range
For the experienced darknet users, major product categories of the World Market won't bear any surprises. It offers drugs, fraud, digital goods, counterfeits, and services. However, the pace of its growth is quite impressive. They started with 600 items and got more than 3000 listings within a couple of months. Now, in 2021 buyers can choose from 10 000 goods and services.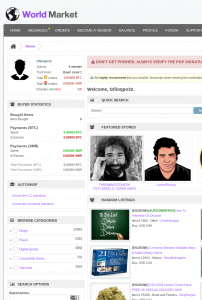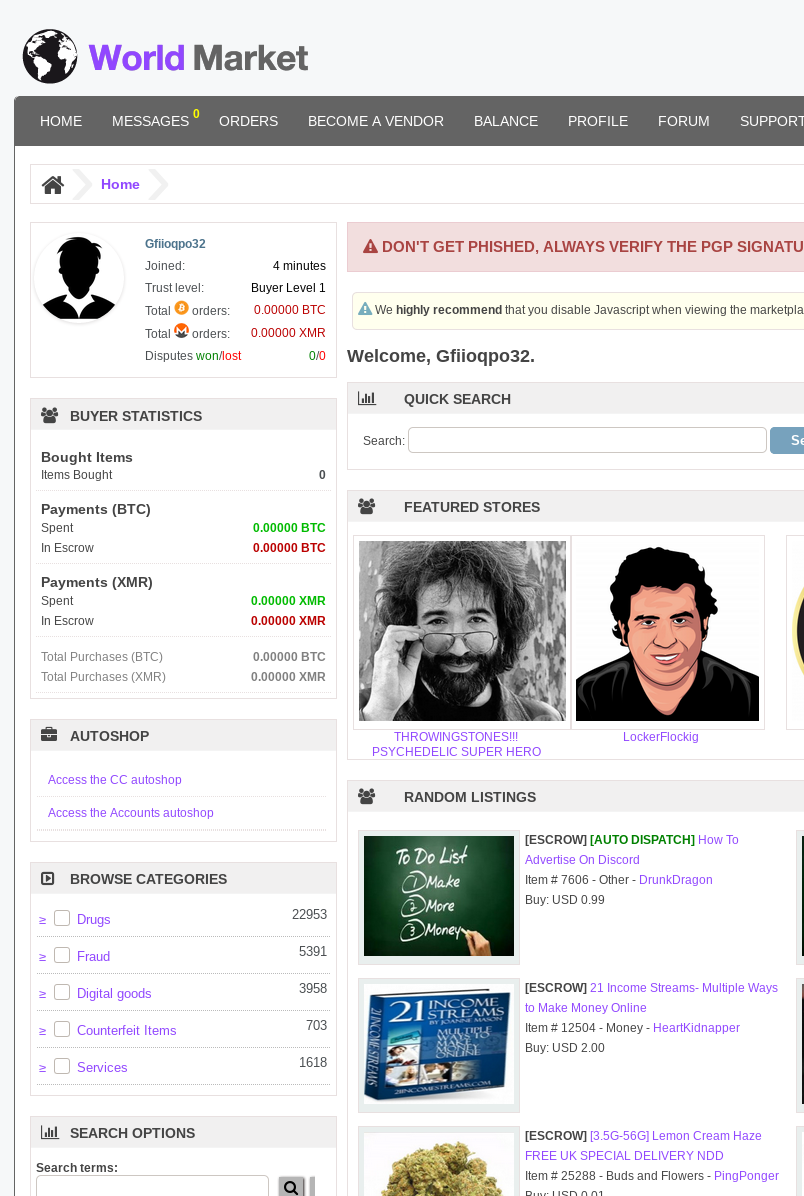 Drugs
Obviously, drugs form the most popular category regardless of the marketplace you're ordering from. Among 4000+ items you can find anything you like, including prescription drugs, cannabis, stimulants, dissociatives, ecstasy, opioids, stimulants, or steroids. You can narrow your search further by using such subcategories as buds and flowers, hash, concentrates, etc.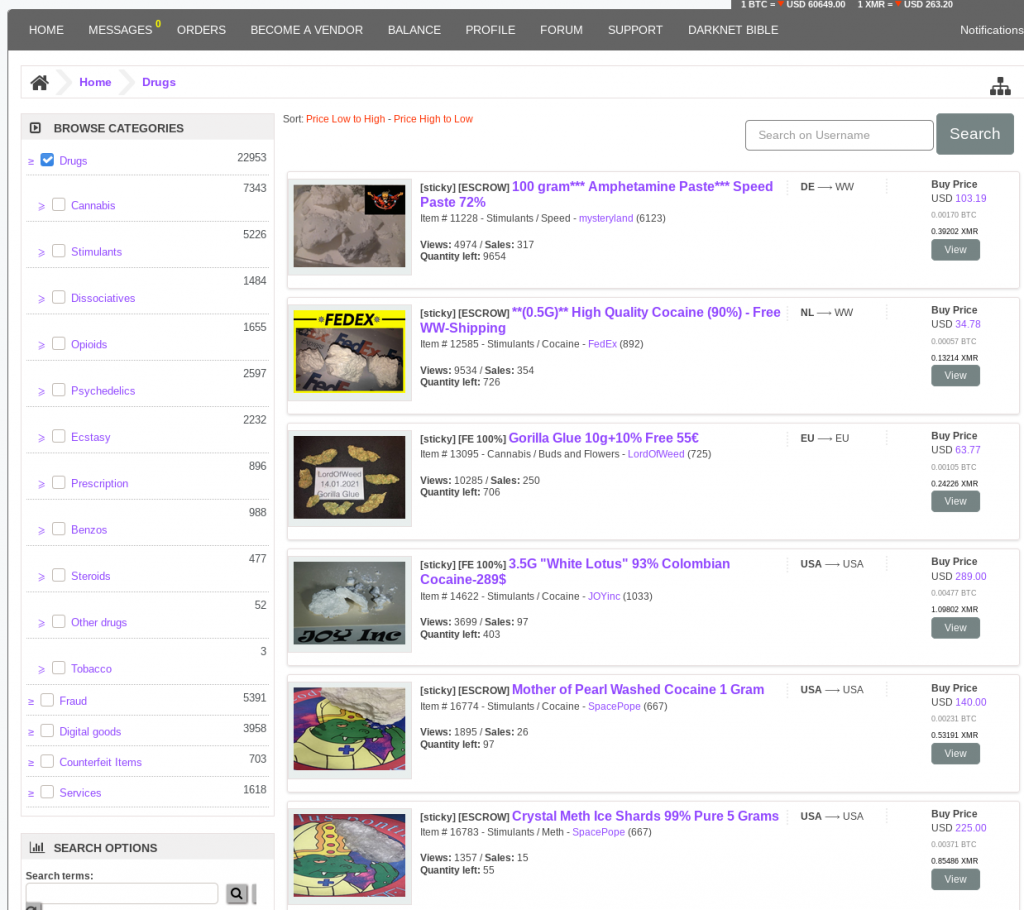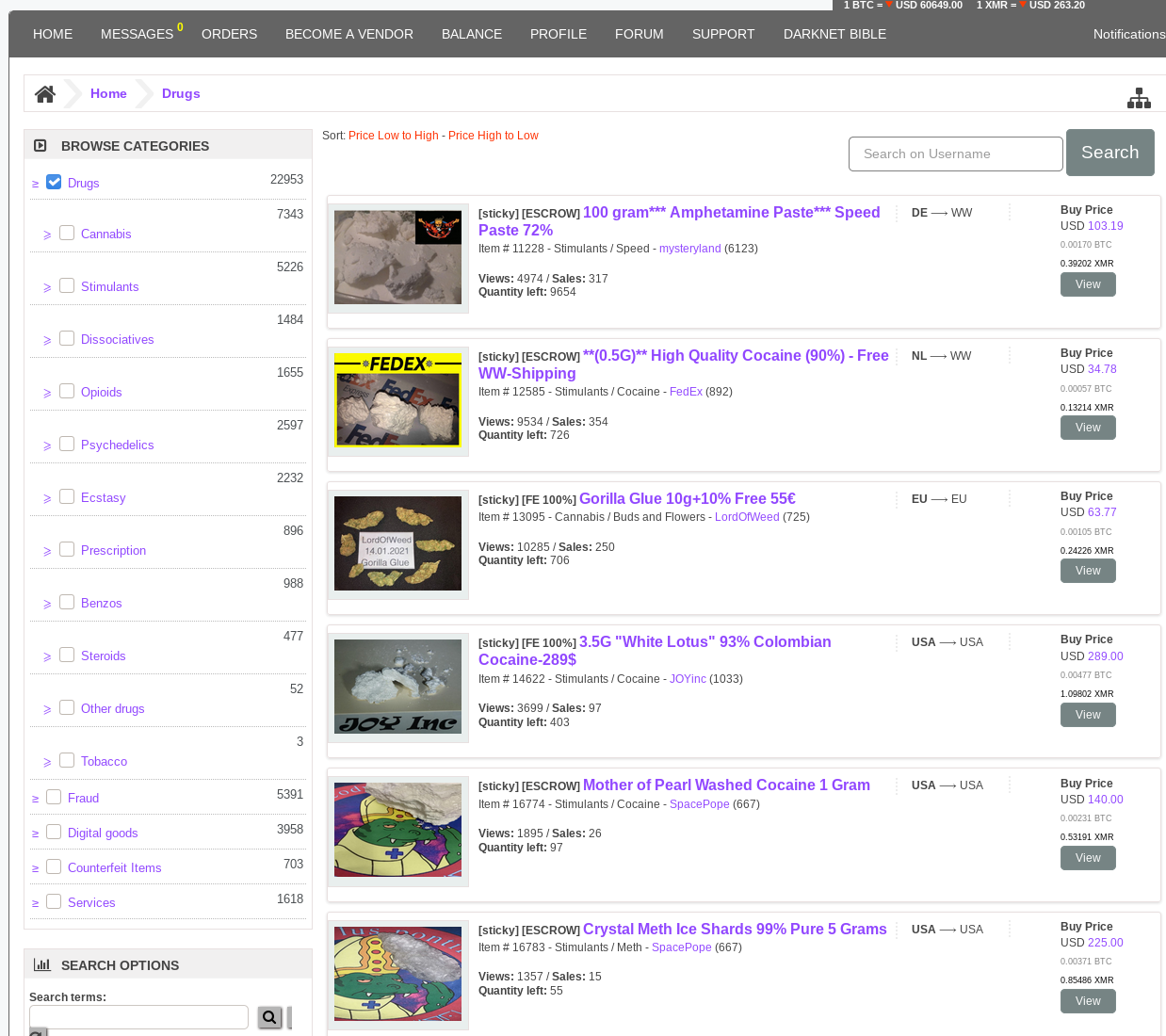 Fraud
Mostly, the fraud section deals with purchasing personal data, acquiring bank details, login or credit card info. But you can also ask for drops and dumps.
Digital Products
Basically, this group of listings contains various types of software, like malware, exploits, and botnets. Still, if you're interested, you can order several guides in a form of e-book.
Counterfeits
This category speaks for itself, here you can buy counterfeit items. Unfortunately, the selection isn't wide, at least yet. For now, you can go with either fake money or jewelry.
Services
If you're looking for getting something hacked or obtaining fake documents, this is the right place to look. Surely, this category doesn't have plenty of listing, but the same applies to this section of the other dark web markets as well.
Banned Products
Of course, if you want to build a strong reputation, you need to maintain certain standards. Plus, even in the darknet there are lines that shouldn't be crossed. Therefore, the majority of marketplaces (and World Market is not an exception) prohibits to use their platforms to sell these products due to their unethical and inhuman nature:
Child pornography
Murder for hire
Products and services that can be used to engage in or support terrorism
Anything that can be used to kill or injure people, including explosives, poisons, and weapons.
Some markets go further and ban fentanyl, doxing, financial schemes, or cure-all magic pills, World Market is not that strict. Yet, those who choose to set up moral boundaries in the shady environment of the dark web still deserve some respect.
Payment Process
The experienced darknet sellers and buyers will also find World Market's payment process algorithm familiar. You need to access your built-in digital wallet, make a cryptocurrency deposit, pay for the items you'd like to purchase, and finalize the order when you receive the goods. Escrow system ensures that clients' money stay safe until they confirm that the package reached its destination. There is nothing innovative in this process, but there are some additional features that potential users might find really beneficial. Thus, let's get into more details.
Currencies
Obviously, due to privacy and anonymity protection of all the parties involved, all the payments are conducted in cryptocurrency. However, World Market takes proper care to its users and allows them to choose the display currency during the registration process. They offer plenty of options, such as USD, EUR, INR, CNY, and many others.
When it comes to transferring the money, World Market used to accept solely Bitcoin, but then it decided to follow the trend and added Monero to the list of approved cryptocurrencies. It is a wise strategy because Monero is known for its enhanced privacy and protection properties. For those who have Bitcoins but want their darknet transactions to be completely anonymous, World Market incorporated a BTC to XMR mixer that allows you to exchange cryptocurrencies.
You can also withdraw money if you received a refund, decided not to buy, or simply transferred more than the purchase eventually cost. It used to charge fixed 2.5% withdrawal fee, but now you'll have to pay only 0.0003 BTC for Bitcoins and 0.01XMR for Monero.
Sellers also need to have money on their e-wallets because they have to pay their vendor fees ($650) and a 4% commission for every purchase. They should use cryptocurrencies while completing these payments as well.
You shouldn't be afraid of using cryptocurrency, the website offers plenty of platforms and links for the first-time users. But some people might find the absence of wallet-free payment disturbing because exit scams are a real threat when you deal with the darknet markets.
Escrow
Escrow is the most common system when it comes to handling payments in the dark web, so there is no surprise that World Market decided to apply it. Basically, this means that you don't transfer the money to the vendor directly, the amount initially goes to the market's account where it is stored waiting for the order to be finalized. If the seller fails to ship the goods or loses a dispute, the order gets cancelled, and the customer gets the money. However, if the buyer doesn't mark the package as received, open dispute, or ask for escrow prolongation in the established period of time (24 hours for digital listings and 14 days for physical items), the order is automatically finalized, and the money goes to the seller.
Multi-signature (Multisig) is a form of Escrow system where the marketplace can act as an arbitrator. In case any issues or concerns arise, it examines the situation and grants its signature to the party that it finds the most deserving. It might be a useful tool while resolving the disputes, but plenty of platforms don't apply it, World Market included.
Finalize Early
Finalize Early (FE) option means that the buyer can transfer the money directly to the seller without waiting for the goods to arrive. It makes the payment process faster and easier, but puts customers at risk. That's why World Market made this feature available only for the vendors with established reputation. You can apply for the FE status, if your store matches these criteria:
Level 5
250 sales ($25 000 worth in total)
90% of positive feedbacks.
Of course, you shouldn't be using this option if you have any doubts concerning the vendor.
Autoshop
Unlike FE, Autoshop is a rare feature. It also has no Escrow and enables clients to complete purchases within a click. It might be a risky business, that's why this option is limited strictly to the Cards and Accounts (bank and login details). To protect the customers, World Market provides a 1-hour feedback time during which you can run the card through the automated checker to verify if it's live. If the card is dead, you won't be charged.
Security & Anonymity
To protect all the parties involved, the marketplaces cannot afford to treat security and anonymity issues lightly. Frankly, on the Internet, no one can provide you a 100% guarantee that you won't be scammed or hacked. However, as in any other community, in the darknet there are certain standards, procedures, and protocols that are mandatory for platforms if they want to be perceived as trustworthy and professional. World Market might not be the most secure marketplace, but it definitely takes these aspects seriously and applies plenty of features and elements to keep everyone safe. Let's take a look at what it can offer its vendors and buyers:
Its registration form doesn't require any personal information and leaves you completely anonymous.
It protects your money with Escrow system and 6-PIN (both digits & letters allowed). When you fill in the registration form, bear in mind that your PIN shouldn't contain anything personal, e.g. DOB, pet's name, etc.
It's not only a password that stands between hackers and your personal data. Right after the registration, you'll see the automatically generated mnemonic code. It's the only thing you can use to restore your account or reset a PIN, and it's only displayed to you once. Moreover, when you log in, you'll see the auto-logout timer with 20 minutes, 6 or 12 hours sessions available. Plus, if your account is inactive for more than 1 month, the system automatically deletes it.
2FA with PGP encryption is compulsory for the vendors and strongly recommended for buyers.
To attract sellers with serious intentions, it imposes a substantial $650 registration fee. It also exerts efforts to encourage trustworthy businesses with FE status and free of charge registration (if they manage to prove that they have solid reputation on other markets).
All the necessary information on both buyers and sellers is displayed in their profiles, including number of sales/deals, registration date, won/lost disputes, level and reviews. Customers can use it to confirm that the provider is reputable before placing an order, and vendors can study this data to decide whether they should approve or reject this order.
Despite World Market doesn't support such security features as Multisig, time-based one-time password (TOTP), login phrase, or wallet-free payments, it still puts substantial efforts to ensure the platform's safety and privacy. Therefore, it certainly can be trusted.
How to Keep It Safe
Of course, you should be aware that darknet markets are dangerous places and trading there can be risky. Your decision to get involved in such activities is your personal responsibility, and you should be prepared for the consequences. However, there are some rules and measures that will help you avoid getting hacked or scammed.
If you need to come up with a login, a username, a password, a PIN, or other identification, you have to make sure that it cannot be traced back to you. So, don't use any personal details in it.
Store all the necessary information, such as password, PIN, or mnemonic code somewhere only you can find it.
Always access dark web through TOR browser or I2P mirrors. Don't forget to disable JavaScript by changing your Security Level to "Safest" (Options → Privacy & Security → Security Level → Safest).
Use VPN to remain untraceable.
Keep your dark web business separated from other activities.
Make sure that you study all the available information on providers, platform, or other members of the darknet community before you engage into any interaction with them.
Summary
Overall, World Market offers plenty of features that deserve recognition. Old-time users will call the interface familiar, and the newcomers will find it completely intuitive and easy to navigate with a variety of filters, search options, and languages available. It's one of the fastest growing marketplaces, so it's very unlikely that you won't find there the items, you're looking for. It implements all the must-have security & privacy features, like 2FA with PGP encryption and Escrow system, it even adds PIN and mnemonic code for extra safety. If you need help or advice, you can approach its friendly customer service and fellow users from World Market Forum (note that it requires separate registration). It doesn't have Multisig or wallet-free payments, but so does the majority of the darknet markets. Of course, there is always room for improvement. Plus, when it comes to the dark web trading, it's impossible to predict anything. World Market can suffer the same fate as Alphabay and Empire Market. But for now, they seem to be one of a few professionals you can trust.