Flugsvamp 3.0 Market URL
Flugsvamp 3.0 is inactive from 15 November 2021!
Flugsvamp 4.0 URL:
fs4is3y4hfycz4nh5t2pnerhycg3r5g5f7slals5yqop7oiyjqbam3yd.onion
Read more about Flugsvamp 4.0
Date: 4, October, 2023
Status: Active
Darknet markets that target audience from certain country can lure in the customers who are looking for specific domestic products, local delivery, or less crowded and, hence, more secure place to shop for illegal substances. Flugsvamp is a Swedish marketplace, designed to sell drugs primarily for people who live in Sweden. Yet, international buyers also can find it advantageous in several ways. Let's see, what exactly Flugsvamp 3.0 has to offer.
Overview
Name
Flugsvamp 3.0
Established
February 2019
Status
Running
2 Factors Authentication (2FA)
Yes
Escrow
Yes
Multisig
No
Finalize Early (FE)
For qualified vendors
Pretty Good Privacy (PGP)
Yes
Payment Currencies
Bitcoin (BTC)
Vendor Fee

7500 SEK

(non-refundable)
Number of listings
~ 500
Wallet-free option
No
Onion URL

http://fs3oooocyqp5xa6alildrhlqtytrlfx6wj2q7pd6hklccjojjb3x5gad.onion/
Flugsvamp 3.0 is a dark web marketplace that specializes in selling drugs in Sweden. You can see that this is the third version, so you can presume that it has a long history, and that would be correct. The first website was developed in February 2014, allegedly, as a proof for the government that Swedish community calls for a more liberal drug policy. However, authorities did not respond well to that initiative, and Flugsvamp was closed in November 2014 together with some other markets. The platform reappeared in April 2015 and managed to survive for almost 3 years, it was shut down at the end of 2018. Flugsvamp 3.0 started operating in February 2019 and is currently up and running. Still, when it comes to places where dealers operate on a very gray or even completely illegal territory, there can be no certainty about their future. All in all, it is not unreasonable to hope that the current administration has learned some valuable lessons from its predecessors, and will be more successful.
Privacy & Security
Obviously, darknet markets that pay little attention to making their platforms a safe and secure trading place won't last long and are destined to have a bad reputation. However, small local markets usually don't have enough resources to apply sophisticated modern technologies. Therefore, Flugsvamp 3.0 can't offer Monero, Multisig, or Wallet-free payment, it operates using traditional Bitcoin, Escrow, and e-wallet tied to your personal account. But don't jump to conclusions and scratch this name out of your list because it has some unusual security measures and features that might pleasantly surprise you.
Registration
Registration process is simple and completely anonymous. If you ever had an account at any dark web marketplace, you'll figure it out right away. If you're a first timer, then follow this algorithm:
Solve the captcha and press "Verify" ("Verifiera") to proceed
Click on the "Create account" ("Skapa Conto") section in the right corner of the page
Enter desired username ("Önskat användarnamn") and password, confirm the password by repeating it ("
Fill in the captcha code
Press "Create account" ("Skapa Conto")
Log in using the username and password you created (Användarnamn – L.
For vendors, the procedure is a bit more complicated. The landing page has a section "Create vendor's account" ("Skapa säljarkonto"), but you cannot complete this form without an invitation code. Thus, potential sellers have to create a buyer's account first to submit the information concerning their product range and experience, then transfer 7500 SEK in Bitcoins to the administration to prove that they are legit, trustworthy, and have serious intentions. While two-factor authentication (2FA) with PGP encryption is not available for customer, it is mandatory for sellers due to security reasons.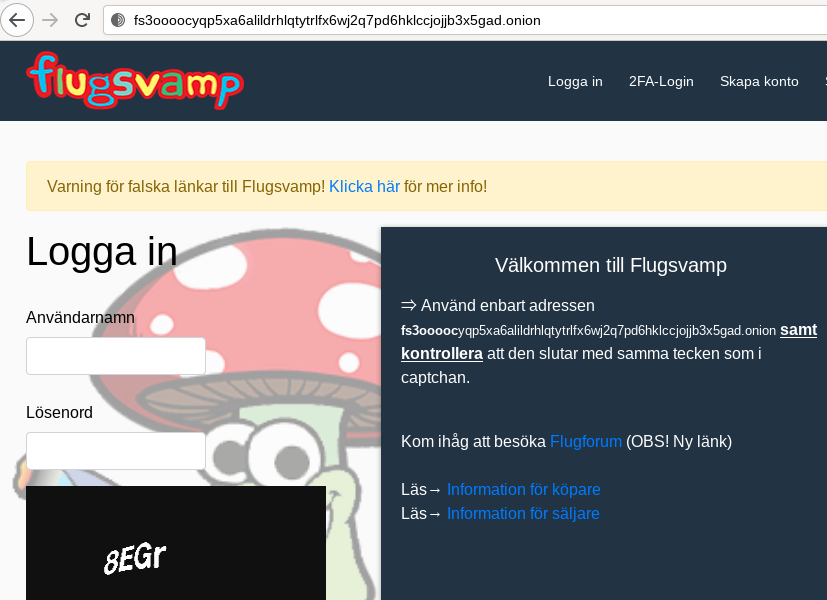 Communication
Of course, it's safer for everyone involved when all the interactions between parties remain anonymous. For that purpose, you can use your personal PGP encryption key. After you enter your account, go to the Profile section (Profil), here you'll find a PGP key (PGP-nyckel) page. Select "Others" ("Andra") and insert your entire public PGP key into an empty field. Then you can "Update profile" ("Uppdatera profil"). If everything is correct and the system approves your key, you'll see the message that "Your profile has been updated" ("Din profil är uppdaterad"/"Din profil har uppdaterats"). Unlike many of its competitors, Flugsvamp 3.0 doesn't verify that you're indeed the owner of this PGP key, so you need to make sure that the key you entered has no mistakes and the encryption works correctly.
When it comes to communication, it is crucial to remember that this market is Sweden-oriented. Thus, using it is incredibly easy if you are a local person. You can enjoy fast shipping and prices in domestic currency, alongside many other perks. However, if you are an international buyer, you'll have to put in some effort. Luckily, contemporary technology allows you to simply add the page to Google translate and figure out the content using a bit of deductive logic. Surely, it would be more understandable for the experienced users who are familiar with all the common terms and definitions, but newcomers can also give it a try. Of course, there are plenty of translated internationally operating websites with prices displayed in multiple currencies. But, on the bright side, scammers and irresponsible vendors might think the same way, which inadvertently makes it a safer place compared to many other big market players.
Finance
Flugsvamp 3.0 uses a traditional Escrow system, with all the payments made in Bitcoins using e-wallet linked to your account. This means that first you need to make a deposit with the required amount of cryptocurrency, then the money goes to the marketplace's account, and the seller gets it only after you confirm that you received the order and are content with its quality. As in many other darknet markets, the Finalize Early option, which implies that the seller gets the payment right away, is available for eligible vendors only. The exact qualification criteria are not specified, but considering Flugsvamp 3.0 registration requirements, the standards should be high. Still, you should keep in mind that if you decide to go with FE, it would be almost impossible to get a refund in case the situation goes south. Hence, make sure that the vendor you trust has a solid reputation and impeccable selling record.
Of course, there are multiple features that will allow making the website's security more advanced. Multi-signature (Multisig) gives the platform the right to grant its signature to the party it finds most convincing in case of any disputes. Monero (XMR) offers enhanced privacy protection capabilities. Wallet-free payment reduces the risk of becoming a victim of exit scam. But Flugsvamp 3.0 is a small local marketplace, most likely, it doesn't have funds or technologies to implement these options. However, it imposes certain restrictions on both customers and vendors as additional security measures:
Vendors have to pay a substantial non-refundable 7500 SEK fee in Bitcoins (it's approximately 855 USD).
Buyers cannot withdraw any funds. If you accidentally placed more BTC than you needed or have other funds you wish to withdraw, you need to contact customer service.
Partial withdrawals are not permitted for sellers, they can transfer only the whole available balance. Plus, if the vendor's has a high percentage of active orders with ongoing disputes, it becomes impossible to make withdrawals. As soon as the rate of disputes reduces to normal, the restrictions get lifted.
Warning!
Dealing with darknet markets is risky and dangerous. You can get scammed, your personal details can be exposed, or you can even face prosecution for participating in illegal activities. Make sure that you are extra cautious and prepared for the consequences. Following these steps can help you prepare for the possible traps and pitfalls ahead:
Use TOR browser and VPN for maximum privacy. Don't forget to go to Security Settings to ensure that you have the "Safest" security level, which means that JavaScript is disabled.
Keep your everyday life separated from your dark web business.
Don't leave your passwords or other important codes where people can see them.
Use passwords, usernames, and other profile data that is totally random and has no personal connection with you.
Check that you are not logged into your Google account while translating a website.
Don't place an order before you study the profiles of both desired item and potential seller.
Product Range
Flugsvamp 3.0, as you can see from its name and a smoking mushroom logo, specialized solely in medicines and drugs. Currently, there are more than 500 listings presented on the platform. They are divided into categories and subcategories for better navigation. For now, translation is a work in progress, so you might still need to use Google translator to find what you're looking for. Among some major categories are:
Cannabis (grass, hash, concentrate, edibles);
Disco (ecstasy, MDMA, ketamine);
Stimulants (amphetamine, cocaine);
Opiates (buprenorphine, heroin, oxycodone, etc.);
Psychedelic (mushrooms, LSD, mescaline, etc.);
Medicines (ADHD, erectile dysfunction, sleep aids, pregabalin)
Doping (e.g. peptides and steroids).
In addition, you can also acquire everything you need for drug testing and drug accessories. That niche specialization can be seen as a lack of options, but it also means focusing on something to achieve perfection and cover every possible request in this particular sphere. Thus, if you're in search for anything drug related, you should pay attention to this store.
Unfortunately, search engine there is quite ineffective and requires adjustment. Therefore, it is better to navigate through the menu using categories, subcategories, and filters. You can choose a desirable category or subcategory and then apply the following filters to sort the items:
Most popular products (only results for the last 30 days are displayed)
Prices for small amount (from highest to lowest and vice versa)
Prices for large amount (from highest to lowest and vice versa).
As soon as you find the item that matches your requirements, you need to click the "Visa produkt" ("Show product") button. Here you can review the important data on the object, including title, category, subcategory, image, price (in Swedish kronor), and reviews. If everything fits your needs, you can proceed with opening the vendor's profile. You can find its name with the clickable link in the product's description.
Due to the Swedish market orientation, it would be wise to get in touch with the supplier first. Some vendors don't respond to international orders and stick to the domestic marketplace. Of course, you might get rejected once or twice, but it doesn't mean you shouldn't try at all. The number of orders received by popular vendors can reach hundreds or even thousands. Plus, the platform exerts certain efforts to start translating the website, which indicates the increase in demand, especially from other countries. Hence, some participants might want to seize the opportunity to expand. For the obvious security reasons, don't forget to ensure that your communication is PGP encrypted before contacting the seller.
How to Place an Order
If the vendor agreed to strike a deal, there is nothing stopping you from placing your order. Follow these steps, and this process will be smooth and easy:
1. Make a deposit.
When you open the listing's info, you'll see that it usually has different quantity options. Because withdrawals are unavailable for customers, it is better to find out how many Bitcoins you need to transfer before you actually make a transaction. Price is displayed in both SEK and BTC, so you don't need to perform any complicated calculations. As soon as you're ready, issue a payment using your deposit address (Din insättningsaddress/Din insättningsadress). You can find it in the "Account" ("Konto") section of the main menu. Note, that the minimum deposit amount is 50 SEK. The transaction appears in a profile within 15 minutes, but is marked as completed upon two confirmations.
2. Select the preferable amount.
When you see that your balance is updated, go back to the items you'd like to purchase and add them to your cart.
3. Enter the shipping address.
You need to fill in the address where it would be convenient for you to receive the package. It might not necessarily be your home address.
4. Place an order.
As soon as the order is placed, you can trace it in the Order ("Ordrar") section of the menu.
5. Confirm that the package is received and everything matches your expectations.
You need to mark the goods as received as soon as you get them, so the vendor could get the payment. In case the order hasn't been marked as "completed" and no disputes have been initiated within 7 days since the seller shipped the order, the order is finalized automatically. You can opt for the FE ("Autosläpp") option to make the payment process quicker and easier, but, again, you should be extra cautious with that. Remember to trust only the seller you're sure you can rely on.
6. Open a dispute if you're dissatisfied with the delivery.
If you have issues with your order you'd like to resolve, you can start a dispute. This means that you as a customer and the vendor will have 7 days to discuss the problem and reach an agreement. In case the parties fail to do that, the customer service will study the case and decide which party should win the dispute.
Placing an order on Flugsvamp 3.0 can be challenging. In case the seller isn't responding and approving your order, you might have not followed some of these recommendations:
Use the PGP encryption. For safety reasons, the sellers might not be willing to respond to the unencrypted messages.
Always mark the order as completed and don't make the supplier wait for the money. If all of your orders are finalized automatically, it will be seen in your profile, so the vendors will refuse to get involved because of the possible payment delays.
Ask the provider if the shop has international shipment before placing an order.
To Recap
As any other darknet marketplace, Flugsvamp 3.0 has its advantages and disadvantages. For instance, potential customers can benefit from:
niche specialization that allows to obtain everything drug related in one place;
numerous restrictions and security measure (BTC, PGP, 2FA, Escrow, no withdrawal, substantial non-refundable vendor fee, etc.) installed to keep both sellers and buyers safe and anonymous;
local community oriented website that requires effort to translate and communicate, which can be too demanding for scammers;
high admission standards for the potential vendors to ensure that they are reputable and have serious intentions.
However, some people might find it too risky and complicated to use due to:
limited product range;
absence of Multisig, Monero, or wallet-less payment;
necessity to translate and find suppliers that are ready to ship internationally.
Overall, Flugsvamp 3.0 is a perfect option for those who are tired of major market players and are looking for a more quiet place to shop. Of course, it can be challenging, but the platform's customer support is friendly and ready to help. Plus, you can also connect with the users' community at the Flugsvamp 3.0 official Forum if you need some helpful answers and honest recommendations.