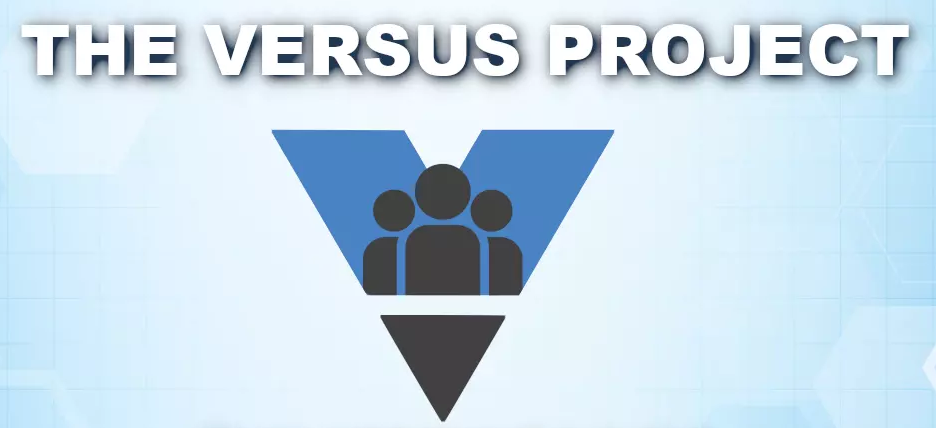 Versus Market URL
19 May 2022 Update: Versus was hacked and owners decided to close the market. Try other darknet marketplaces
Status: Inactive, hacked, retitred

Is Versus Market Down: No
The Versus market team wanted to create a project that would resemble Hansa or Silk Road. But the real VS Market story is developing in another direction…
Versus Market In Dark Web Review 2021
UPDATE 22 Dec 2021 – Versus Market Up and Running! (Versus Market official site)
The administration of the Versus market characterizes this project as a security-driven onion project. However, the platform does not quite cope with the security issues right now. In this review, we will characterize the current state of the marketplace, mention a few important things about its past and will try to predict its future.
From official Versus Market's statement:

Welcome to The Versus Project. The one and only forced multisig marketplace and ever-growing community.
We call ourselves The Versus Project because we were are not just another Darknet Marketplace. We are a project focused on building something new and progressive within the Darknet Community. We have noticed that over the past years, the quality of DNM's has deterioriated. During the "Golden Age" of DNM's, from SR1 to Agora and Hansa, there was a powerful meeting of counter-culture ideology and technological expertise to create something that changed the internet forever. Over the last few years, however, that has changed. Many of the current generation of DNM's are fly-by-night "cash grabs" with questionable intentions that will eventually exit scam and are built on publicly accessible and re-used source codes and scripts.
We see now that the average DNM user and average DNM vendor is wary of the very DNM's which they use! Customers and vendors alike have lost trust in the current generation of markets due to the revolving door of exit scams and poor OPSEC.
This is where we come in.
The Versus Project is here to make a change. Created by a team of experienced, long-time DNM veterans and coded on an entirely original source code, we plan to bring back the Golden Age of DNM's. Our goal is not to be the biggest market in the DNM world, but instead to be the best and most sophisticated market with the highest standards of customer support, security, vendor quality control, harm reduction campaigns and educational programs.
We are a different kind of DNM and being a part of The Versus Project means to become part of the future.
What Is Versus Market Darknet

The team of this project wanted to recreate the oldschool spirit of such legendary marketplaces as Silkroad or Hansa. These were more than just trading platforms — large dedicated communities shaped around them. So far, it would be premature to speak about the efficiency of the VS market in this aspect. But its team emphasizes that they aim to create a "family business" based on trust and friendly vibes.
History
The project was launched at the beginning of 2019. Soon, it fell prey to DDoS attacks. The harm was so significant that the website had to temporarily close down. Critics would say that Versus market dark web was just another scam. But the administration of the platform promises to relaunch it soon. They share regular updates in their Reddit thread and stay in touch with their network members. So hope is still alive…
Address
The official Versus Market Link is pqqmr3pzlmccdks2cwfrwimm6gqp6a2v5rlj5xm6uap4c5pmwo63oiyd.onion
If you try to access it, you will need to enter a captcha.
Mirrors
Normally, the following mirrors would lead to the versus market tor.
pqqmr3pzlmccdks2cwfrwimm6gqp6a2v5rlj5xm6uap4c5pmwo63oiyd.onion
q2f7swt5zztmt26m7cce465zrprpv4eyhl27qoerpsf4rpkdvgtmroid.onion
Versus Market Reddit

Obviously, there are no official subreddits regarding Versus Market. The reason is that any discussion of darknet markets if forbidden on Reddit. So, there a lot of fake reddit pages with Versus Market links and they achieving one simple goal – to steal your funds. Remember, don't trust any link from Reddit!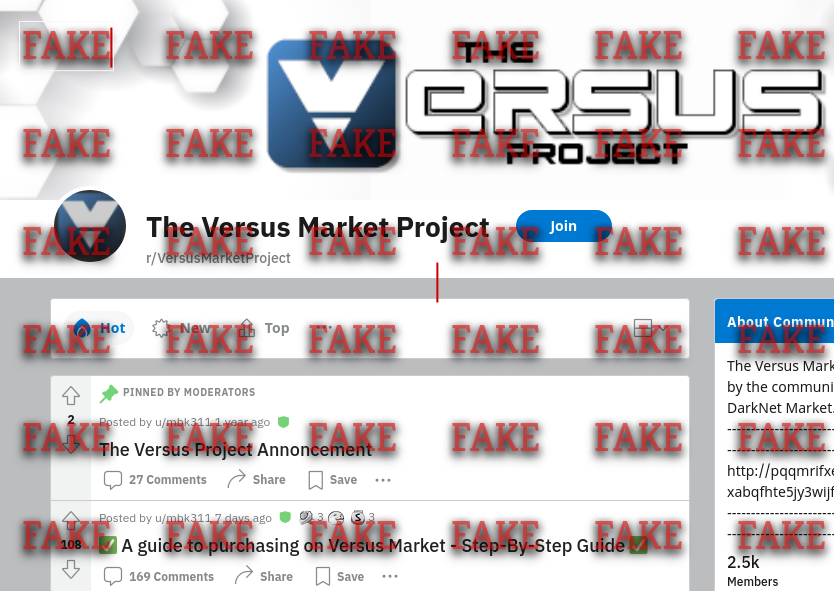 How To Access VS Market
Please check the project's Reddit thread from time to time to find the answer to this question.
What Are The Rules Of Versus Dark Web Market
When a newbie signs up for the system, they automatically agree with its terms and conditions. Only the person who created the account is allowed to use it. It is the client's responsibility to prevent third parties from entering their account and carrying out any activities on their behalf. Also, users should never try to manipulate the search function via keyword stuffing.
Prohibited Items
Vendors should not try to sell the following items on the Versus market.
Pornography
Dangerous weapons (except for nonlethal, collective, fake and decorative as well as pepper spray)
Doxxing
Fentanyl or its analogs
Services related to physical or mental harm, including hacking
If a user violates these rules, the moderators have a right to ban their account, freeze their funds and donate this money to services that support anonymity.
One of the weirdest banned items is garlic bread. The administration prohibits the sale or discussion of this product on the marketplace. This rule usually confuses newbies. They ask, is there a hidden meaning in this phrase? Or is it just a joke? Or is it a metaphor that somehow relates to onion services? This remains a mystery.
Code Of Conduct
All members of the community should respect each other's anonymity. They should be tolerant and polite to each other. Trolling, insults or humiliation is not acceptable on the forums or in private messages. And of course, no one should ever attempt to scam anyone!
The administration encourages users to share their unbiased opinions and exchange ideas on the platform — but only in a friendly manner. People should avoid spreading dubious rumors or FUD. Instead, they should focus on such information that would seem interesting and informative to the community.
How To Use Versus Dark Net Market
In a normal situation, customers would need to do the following.
Insert the URL of the site in their TOR browser.
Download and save their PGP key.
Download the signed mirrors and validate.
Download the canary and validate.
Most likely, this instruction will remain relevant after the administration relaunches the marketplace.
Terms Of Service
If the client is not happy with the vendor, they can get in touch with the support team. If this is not enough, they can contact the senior moderator. After the support team or the senior moderator make their decision, both the client and the vendor need to agree with it.
Security
In Reddit, the Versus market administration shares detailed plans on cybersecurity and privacy issues. These are just a few examples of operational and application security measures that they are planning to implement after the relaunch.
Everyone will need to use one-step two-factor authentication via message signature.
If someone tries to change their PGP key, they will need to sign it with their current key.
When a user uploads an image, all the metadata will be stripped from it — and they will see the corresponding notification.
To avoid rogue mods, there will be a strict role hierarchy among mods.
Passwords will be stored as Bcrypt hash with 12 rounds of hashing.
There will be no buffer overflow, no CSRF, no CRLF injection or SQL injection.
The session ID will have an entropy of above 128bit, which means there will be no session hijacking.
All requests will be handled by the application server, without directory traversal.
Hopefully, at the second attempt, the team will manage to create a sustainable marketplace that will be operating without a hitch.
Order
When the customer places an order, it means they agree with the vendor's terms of service. These rules are published in the vendor's FAQ. Also, you can send them a personal message. You should never ask for samples unless the vendor offers them on their page. Once the status of the order changes to Accepted, it will be impossible to cancel it and get a refund. Even the support team will not be able to cancel the order manually. It will be canceled only if the vendor fails to process it timely.
Feedback
This marketplace welcomes only vendors with a good reputation. The administration encourages customers to leave feedback about vendors whose services they have used. All reviews need to be objective and rather neutral. If the feedback is too emotional, the administration reserves the right to doublecheck the information to find the truth. Before publicly sharing any negative information, customers should try to discuss the situation with the vendor and come to an agreement.
Attention: if the client places too many orders but does not leave feedback, the system might block them. When reviewing the vendors, their clients should never disclose their real geographical location.
What You Can Buy On VS Market
Unfortunately, at the moment of writing this review, it was impossible to buy anything on the Versus market dark net. The team of the project is teasing some of its features that will become available after the relaunch.
Customers will be able to check listing prices in 19 fiat currencies as well as BTC and XMR cryptocurrencies.
XMR and BTC payments will be carried out through traditional escrow. 2/3 multisig escrow will be possible for BTC too.
There will be no withdrawals or deposits. Invoices will be paid directly and only held for escrow. The funds will be paid out immediately after the deal is finalized.
Vendors will be allowed to add listing descriptions of up to 15,000 characters. They will be able to attach up to 3 photos to each listing.
In their Reddit thread, you will also discover information about bug bounty and other plans. No list of categories or products is available yet.
Pros & Cons
Only two things can be said for sure about the Versus market right now.
Cons
Pros
Its administration might fix the DDOS problem in the foreseeable future
| | |
| --- | --- |
| Established | 2019 |
| URL | pqqmr3pzlmccdks2cwfrwimm6gqp6a2v5rlj5xm6uap4c5pmwo63oiyd.onion |
| Short URL | dark.pe/vs |
| Support Multisig | Yes |
| Security Issues | DDoS attacks |
| Active Warnings | Yes |
| 2 Factor Authentication | Yes |
| Finalize Early | Yes |
| Commission | 4% |
| Vendor Bond | $250 |
| Forced Vendor PGP | Yes |
| Total Listings | No official information |
| Weekly Business Volume | No official information |
| Current Status | Up |