Nemesis Market URL

http://nemesis55gdxo6emcigofp26nmjokadvmvsbnauloweoa47v2aap2ead.onion
Status: Active
Nemesis Market Alternative links: N/A
Official site: nemesismarket.org
Nemesis Market Main Onion address

Nemesis Market Best Vendors
Best vendors of Nemesis Market list. All vendors listed are approved by Nemesis Market administration. New vendors added regularly.
| | | | | |
| --- | --- | --- | --- | --- |
| Vendor | Rating |  Reviews | Sales | LINK |
| weedat | 5/5 | 4056 | 10247 | http://nemesis55gdxo6emcigofp26nmjokadvmvsbnauloweoa47v2aap2ead.onion/u/weedat |
| YOURDEALER | 5/5 | 1270 | 13714 | http://nemesis55gdxo6emcigofp26nmjokadvmvsbnauloweoa47v2aap2ead.onion/u/YOURDEALER |
|  straightfromnl | 5/5 | 1454 | 8416 | http://nemesis55gdxo6emcigofp26nmjokadvmvsbnauloweoa47v2aap2ead.onion/u/straightfromnl |
| MasterMeds | 5/5 | 994 | 562 | http://nemesis55gdxo6emcigofp26nmjokadvmvsbnauloweoa47v2aap2ead.onion/u/MasterMeds |
| localpharm | 5/5 | 8943 | 2208 | http://nemesis55gdxo6emcigofp26nmjokadvmvsbnauloweoa47v2aap2ead.onion/u/localpharm |
Nemesis Market Review
Trending markets come and go fast in the darknet territory. Not a month goes by without someone getting exit-scammed, busted by authorities, or being down after a cyberattack. It is a turbulent atmosphere, but it's how the community survives, by replacing the fallen soldiers with fresh blood.
Nemesis market is a relatively recent addition to the list of the dark web trading platforms. It utilizes most of the common practices when it comes to payments and security, yet it displays some peculiar characteristics in terms of product range and concept behind its operations. So, it is curious to see what it has in store.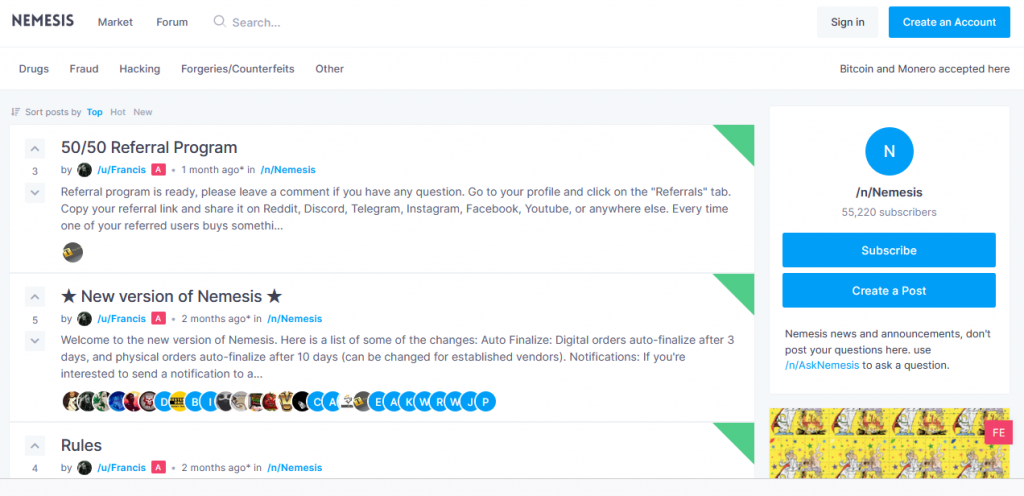 Overview of Nemesis Market's Main Features & URLs
Although established in 2021, Nemesis drastically changed its vision just a couple of months back, at the beginning of March 2022. Now, it's a mixture of a darknet market and a forum. Plus, all the products are openly shown to any platform's visitors, and no registration is required. This openness and accessibility make it stand out from the other market players.
Nemesis doesn't offer Multisig Escrow, and it doesn't oblige users to apply PGP encryption, let alone 2-FA with PGP. Hence, be sure you know how to protect yourself before you go shopping.
Still, it has traditional Escrow, wallet-free payments (no deposit needed), and Finalize Early (FE) deals. As in most darknet marketplaces, you can choose Bitcoin (BTC) or Monero (XMR) to pay for your purchases.
When it comes to the product range, there is no surprise that drugs of all kinds are very popular. However, the number of manuals, tutorials, and other digital products (especially, dedicated to hacking) on this website is impressive.
Although the market does have a 'self-defense' category, you won't find any weapons on the site. They are forbidden, as well as child pornography, murder for hire services, explosives, fentanyl, poisons, and acids.
Still interested to learn more? Then let's roll.
| | |
| --- | --- |
| Launched | 2021 (new & revised version in March 2022) |
| Current status | Running |
| Specialization | Universal |
| Number of listings | ~ 5 000 |
| Traditional Escrow | Yes |
| Escrow with Multisig | No |
| Accepted cryptocurrencies | Bitcoin (BTC) & Monero (XMR) |
| Finalize Early (FE) | Yes, for eligible vendors (more than 100 good reviews) |
| Short URL | dark.pe/nemes |
| URL | nemesis55gdxo6emcigofp26nmjokadvmvsbnauloweoa47v2aap2ead.onion |
| Vendor bond | $200 (non-refundable) |
| Commission | 5% for vendors (can cut to 2.5% if you use a Referral program) |
| Withdrawal fee | None |
| Wallet-free payments | Yes (Direct Pay) |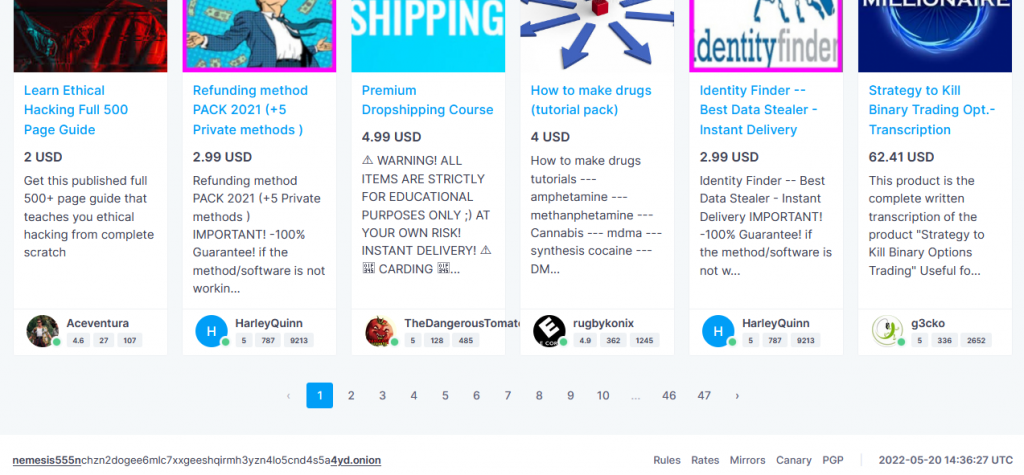 Nemesis takes pride in the ability to have only one main URL because it rarely becomes a victim of DDoS attacks. But you can still find a .txt file with mirror addresses at the bottom of the page alongside the warrant canary and PGP key.
How to Get Ready
Getting involved with any darknet activity is a dangerous game, so you'd better learn the rules before you start playing:
Preserve your anonymity at all costs. Use TOR browser with disabled JavaScript, turn on VPN service with a no-log policy, and install a dedicated operating system for your darknet activity (e.g., Tails or Whonix).
Store important information like PGP keys, passwords, or mnemonic keys where no one can find them.
Make sure none of your credentials can be traced back to you.
Use PGP encryption in any form of communication or while submitting your shipping address.
Always check available info and reviews. If something seems off about the vendor, don't buy anything.
Don't be lazy to spend time learning more about operations security & cryptocurrency payments. It might save you from getting scammed or busted.
Get your onion links from trusted sources.
Save the information on the site's mirrors, warrant canary, and PGP key to verify that nothing is wrong the next time you access the platform.
Access, Registration, and Settings
Creating and managing your account with Nemesis is super convenient, you don't need to be a dark web expert to succeed in it. Just follow these steps, and you'll be good to go in no time:
Create an account. Enter your Username, Password (+ confirmation), Withdrawal password (+ confirmation), and solve a captcha.
Get your generated Mnemonic key and save it somewhere safe because it's your only way to restore your account or reset your password.
Log into your account using your credentials (username + password). You'll have to solve the captcha too, of course.
Set up PGP encryption with a PGP public key and your PGP tool of choice.
Don't forget that Nemesis doesn't have a built-in wallet, so you have to create your personal digital wallet with the external service provider of your choice (e.g, Electrum for Bitcoins) before placing an order.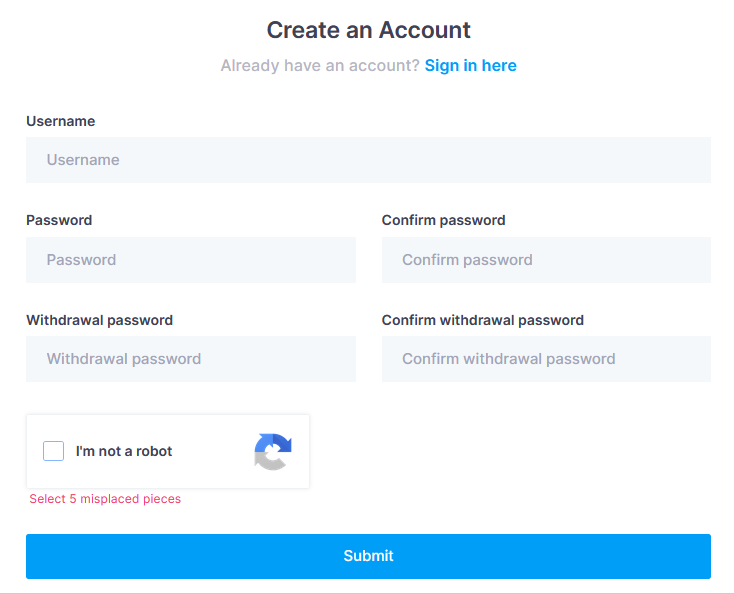 Available & Banned Products (Services)
Nemesis market prefers to exhibit its products and services openly. This approach definitely saves you from the frustration of registering to the website only to find that there is nothing you'd like to buy there.
Yet, the number of listings is relatively small, compared to the major industry players (~5000). Probably, that's why there are no filters or advanced search settings on the platform.
So, here you can find:
Drugs ~2300 listings (cannabis, stimulants, opioids, ecstasy, dissociative drugs, psychedelic drugs, prescription drugs, benzodiazepine, steroids, tobacco, weight loss, paraphernalia, etc.).
Fraud ~700 listings (cards/CVVs, SSN/DOB/DL/PII, bank logins, hacked accounts, drop addresses, carding, verified accounts, dumps, phone numbers/SIM cards, etc.).
Hacking ~150 listings (ransomware, malware/botnets, exploits, DDoS, spamming, data for sale, phishing, hackers for hire, scripts, hosting, etc.).
Forgeries/Counterfeits ~100 listings (currencies, documents, jewelry, clothing, electronics, artworks, deep fake, etc.).
Other ~2100 listings (cash to crypto, crypto to cash, real documents, self-defense, guides and tutorials, custom orders, etc.).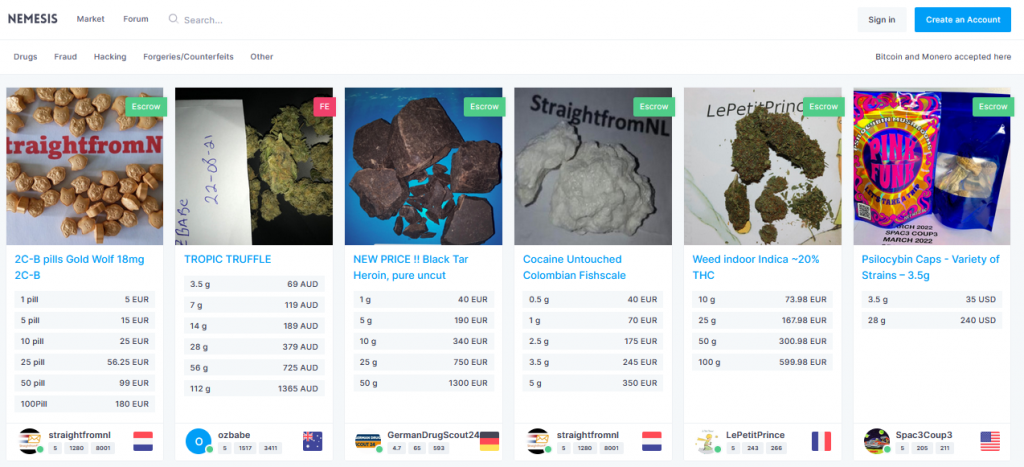 You might notice that besides a traditionally large 'drugs' category, Nemesis has a wide selection of guides, tutorials, e-books, manuals, and other digital products (more than 2000 goods & services combined). Many of them deal with cybersecurity and hacking.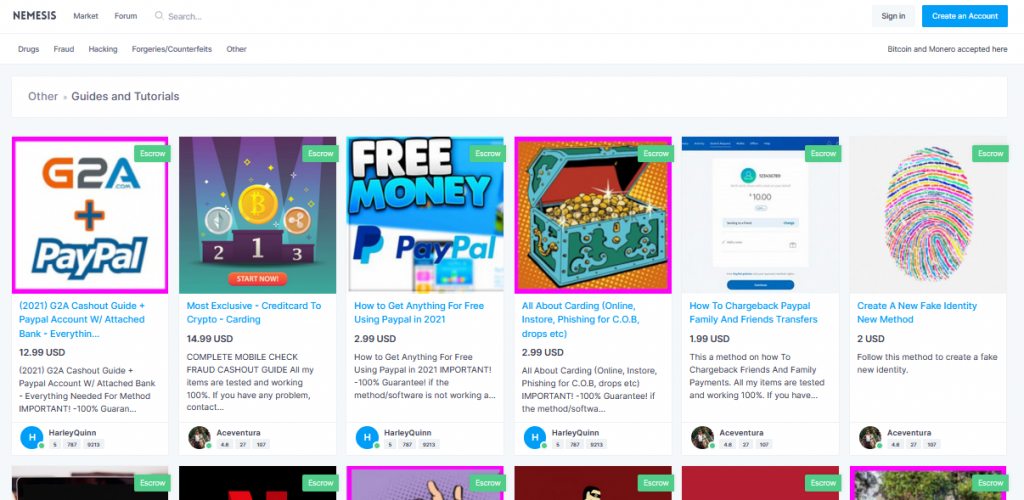 It's 2022, so pretty much everyone sticks to the harm reduction policy. Therefore, don't bother looking for these listings, they are banned:
child pornography,
murder for hire services,
weapons (although you can still try to find something helpful in the 'self-defense' category),
explosives,
fentanyl, poisons, and acids.
Moreover, since Nemesis is an open community, users can contribute to this list with their suggestions. You can just write what you think should be prohibited in the marketplace in the dedicated forum sub.
Before you place an order, make sure to check the following info:
Price & available quantity;
Vendor's last activity (don't buy from those who haven't been active recently);
Ratings & reviews;
Countries/areas the vendor is willing to ship the product to.
Operations Security Status
Let's take a look at what you can and cannot find on Nemesis in terms of security features.
| | |
| --- | --- |
| ✓ | ✗ |
| Mnemonic key | Mandatory PGP encryption |
| Captcha | 2-FA with PGP encryption |
| Traditional Escrow | Escrow with Multisig |
| Vendor acceptance policy (only the ones with an established reputation in other markets are accepted) |   |
| Wallet-free payments |   |
| PGP key, warrant canary, mirrors |   |
Nemesis's captcha is infamous among its users because it shows you distinctly pornographic pictures. Admin claims that these captchas are harder to recognize for the machines, and jokes that the release of dopamine when you see a nude picture makes you addicted to the market. Regardless of the true reason, people are loving it.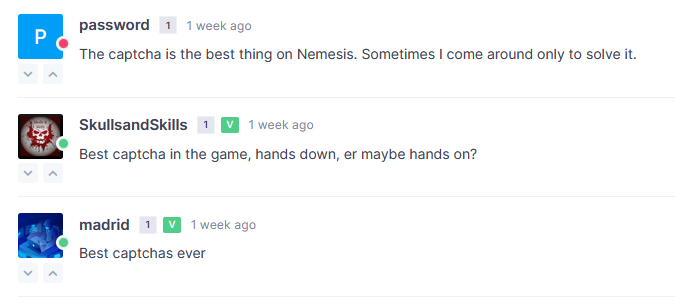 Overall, it's hard to say the Nemesis developers are reckless with their security standards, but it's clear that to make the market more convenient for buyers & sellers they chose to rely significantly on people's own knowledge and discretion.
Payment Process
Nemesis uses wallet-free payments (Direct Pay system) which means that after placing an order you'll get a unique payment link. Use it to transfer the exact amount of money you need to pay for your order with the funds from your personal e-wallet. When the order is finalized, the platform will send your money to the vendor from another wallet.
With a system like this, it is:
hard to exit scam;
impossible to link buyer and seller.
When it comes to the payment process, you can opt either for a traditional Escrow or Finalize Early (FE). In both cases, you have to wait 5 days for the seller to accept your order, but you can cancel it with a full refund after 48 hours. Accepted orders have to be shipped within 5 days, or they will be canceled with a full refund. The amount of time you have to wait for the order depends on the chosen shipping method. If you haven't received your package within the declared time, you will have 10 days to open a dispute.
Digital and physical orders get auto-finalized after 3 and 10 days respectively. However, FE orders get finalized after the seller marks the order as shipped. It definitely saves time and hustle, but don't select this option if you cannot vouch for this particular vendor. Plus, keep in mind that although the seller can have an FE status, certain products might still be sold only with Escrow (check the markers on the listing).
You can select Bitcoin or Monero as the payment cryptocurrency. Because Escrow with Multisig is unavailable here, it's better to go with Monero due to its enhanced security capabilities.
Other Distinguishing Traits
Because Nemesis is a hybrid of marketplace and forum, it possesses certain attributes that make it unique compared to other markets:
All the products are on display without any registration.
If you have any questions or troubles, you can turn to subs like /n/AskNemesis or n/Nemesis without creating a separate account.
In addition, the website offers a 50/50 referral program as a treat. Actually, you can receive many perks if you are a big vendor or are eager to promote them on other platforms. The bug bounty program is also on the way, but cybersecurity specialists are already welcome to test Nemesis for vulnerabilities.
Final Thoughts
Anyway, you should go and try the Nemesis market if you:
Seek a relatively small and unique community-oriented marketplace.
Prefer wallet-free payments.
Need a platform that has not only basic categories, such as drugs or fraud, but also presents many guides, tutorials, and other digital goods.
Naturally, it's your personal responsibility to choose the appropriate balance between 'safe' and 'easy-to-use'. Yet, if you feel like your skills are not enough to effectively protect your funds and data, do extensive research before purchasing on the Nemesis market.