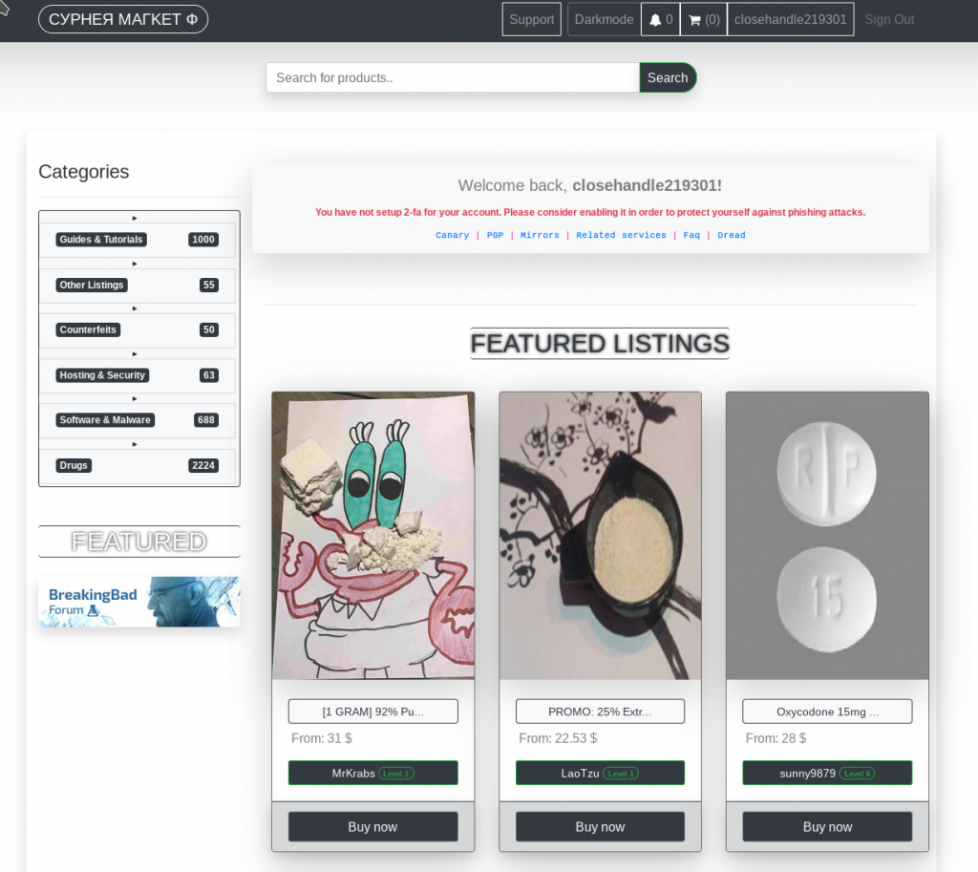 Cypher Market
Due to its illegal nature, the dark web trading industry can be as ruthless as the jungle. There is no wonder that some darknet marketplaces prefer to behave like chameleons and blend in.
With all the law enforcement operations, exit scams, and hacking attacks, users start to perceive them as a quiet harbor away from all the hustle. Cypher Market is a living embodiment of this strategy. That's why its case can be interesting to investigate. So, clean up your magnifying glass and light a pipe because the game is on.
Overview & Main Features
Cypher Market has been in operation for almost 2 years, so it can hardly be considered a newbie in the industry. It doesn't offer a wide range of products, and the admins haven't been promoting it much. However, they claim that evolving gradually was their purpose from the start. Now, with frequent disappearances and retirements of multiple darknet markets, "refugees" from these sunken ships seek shelter in Cypher, causing a noticeable growth in the number of both vendors and customers.
Essentially, it's a traditional trading platform with all the mandatory features. It's a multipurpose marketplace where you can pay for your orders with both Bitcoin and Monero using classic Escrow or Finalize Early payment options.
Cypher's main advantage is simplicity for sellers and buyers alike. It doesn't require previous dark web experience, extensive knowledge, or serious investments to sign in. Customers need only a username and password to register, while vendors have to pay a $75 vendor bond or show a Recon profile with at least 20 sales. Plus, its admins declare that the platform is guided by consumer empathy and is eager to listen to the community's feedback or suggestions.
| | |
| --- | --- |
| Name | Cypher Market |
| URL | http://6c5qa4pybtkfni7hbk4fyzdjdbzv7ll22grwuln5sh7u2fxp5ty324qd.onion |
| Short URL | dark.pe/cypher |
| Listings | ~ 3000 |
| Listings | ~ 3000 |
| Specialization | All-inclusive |
| Vendor bond | $75 (can be waived for vendors with established reputation) |
| 2-factor authentication (2FA) with PGP | Yes |
| Escrow | Traditional – yes, Multisig – No |
| Finalize Early (FE) | For eligible vendors (250 sales and 95% positive feedback) |
| Wallet-free payments | Yes |
| Cryptocurrencies accepted | Bitcoin (BTC), Monero (XMR) |
Cypher Market onion URL:
http://6c5qa4pybtkfni7hbk4fyzdjdbzv7ll22grwuln5sh7u2fxp5ty324qd.onion
You can also find working links & mirrors together with Warrant Canary & PGP  on the official website after signing in.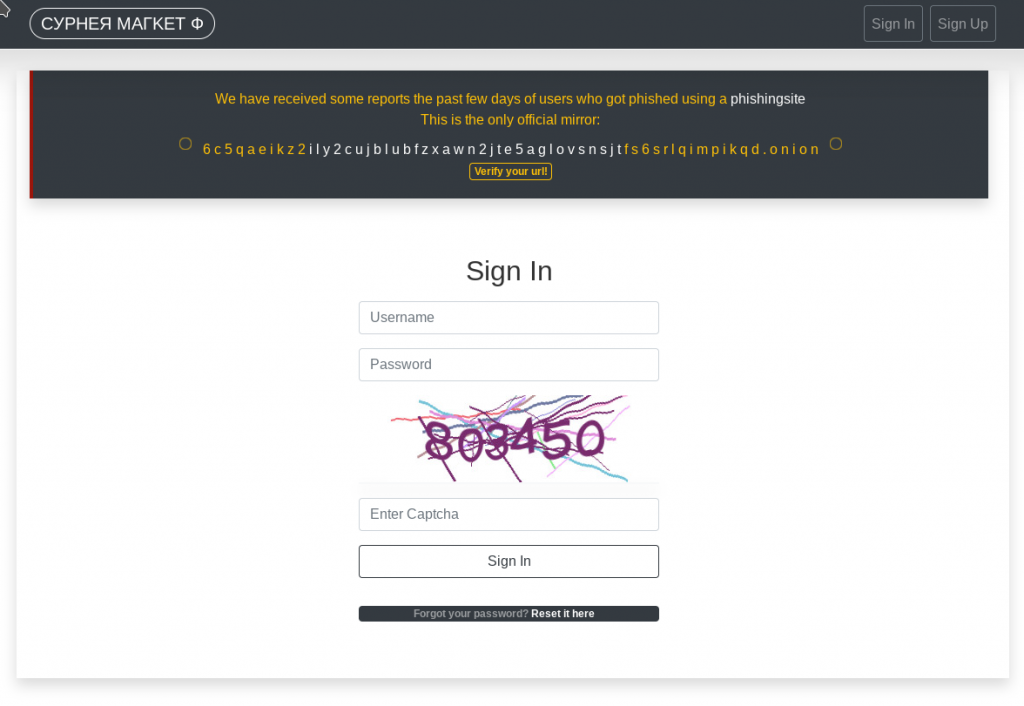 Safety Rules
Although Cypher's stance is to be viewed as the darknet equivalent of a convenience store, it doesn't mean that you should be nonchalant about shopping there. Unless, of course, you want to find yourself scammed or facing legal charges. Hence, here are some proactive measures you might use to protect your anonymity and security:
Always open the onion link via Tor browser with disabled JavaScript (you can change the Security Level to Safest using the shield icon near the address bar).
Install and turn on the VPN service with a no-log policy.
Separate casual browsing from your darknet activity.
If possible, use a dedicated operating system with enhanced privacy capabilities, such as Tails or Whonix.
Get links and mirrors only from trusted sources. Verify them before you log in to avoid getting phished.
Even though only a captcha, username, and password are required to create an account (no PIN code, mnemonic phrase, etc.), you have to ensure that all these fields won't contain any of your personal data.
As soon as you register, go to your settings and use the public PGP key to generate your private PGP key. Apply it to encrypt or decrypt your communication and valuable info, such as shipping details.
Enable 2FA with PGP encryption. You'll have to enter a PGP encrypted message besides your other credentials, but it will give you advanced protection.
Store your username, password, and PGP keys away from prying eyes.
Always check feedback and reviews before placing an order.
If you have any suspicions or issues, don't hesitate to contact Cypher's promptly responding customer support (the admins promise that your problem will be resolved within 24 hours).
Learn more about operations security, darknet markets, and cryptocurrency payments (e.g., see /d/OpSec or /d/DarknetMarketsNoobs).
Usability
The market's design is minimalistic, and its layout is easy to navigate. With approximately 3000 listings, it's the search for particular items is relatively effortless. Still, you can simplify the process by:
Browsing "Featured Listings" & "Latest Orders" for popular products.
Checking the specific category.
Entering the name of goods/services in a search bar, and then applying filters to the results (you can sort them by price, product time, or shipping location).
Product Range
Regarding the selection of available products and services, Cypher has nothing to surprise you with. If you have something sophisticated in mind, you'd better explore other options. Yet, the platform provides a decent choice when it comes to common categories:
Drugs;
Counterfeit products;
Software & Malware;
Hosting & Security;
Guides & Tutorials.
In addition, Cypher market supports a now trending harm reduction policy. Therefore, these products, services, and activities are banned on this website:
Explosives, weapons, fentanyl, carfentanyl, CP, or other things that might cause damage to living creatures.
Threats, blackmailing, and doxxing.
Any forms of scamming, including feedback padding.
Currencies & Payment
The platform doesn't present anything innovative in terms of handling order payments. Generally, the whole system has the following major characteristics:
All the payments are conducted via a classic Escrow method by default. This implies that you transfer the money to the market's account, and it holds it in an escrow until the deal is closed (meaning, you received your order and no disputes were initiated). As soon as the order is finalized, the market releases the funds, so the vendor can receive the payment.
You can use an FE option if you want the process to be faster. In this case, the seller gets the money when the package is marked as shipped. Although only reputable vendors (they must have at least 250 sales and more than 95% positive feedback) can apply for FE privileges, the risk of losing your money if something doesn't go as planned is still sufficiently high. So, opt solely for the dealers you know and trust.
Cypher doesn't have a built-in wallet. All the payments are direct and wallet-free. This means that you don't have to make a deposit before placing an order. After you order something, you'll receive an invoice with the market's address that you need to transfer the money to from your personal e-wallet. This scheme doesn't completely dismiss the possibility of an exit scam, but it does minimize your losses in case of one.
It is a darknet market. Therefore, all the payments should be made in cryptocurrency for security & privacy reasons. The users can select either Bitcoin or Monero. With the absence of the Multisig feature, the latter seems like a preferable option due to its enhanced anonymity protection capabilities.
Conclusion
For now, Cypher Market successfully escapes from the radars of scammers and law enforcement, managing to provide a peaceful, quiet, and relatively secure environment for its users. With a decent product range and all the must-have features incorporated (e.g., Escrow/FE, Bitcoin/Monero, 2FA with PGP), it is a great place to shop unless you're longing for something peculiar. Yet, as the number of participants continues to grow, security features will become pivotal and will definitely call for upgrade or improvement.