Kingdom Market Link
kingdomlszhob4eqpy6pfa527znppjemqe6ylvxmrwq4ca7z6rewzyqd.onion kingdomlwkmyuma5jsbhfm7d2oecp42fo24jj6kjrizrn2gegqokwgyd.onion
Primary Features & URLs
The perfect darknet market doesn't exist. Period. Some people will start arguing, 'Wait, what about [name of your favorite market here]?'. Yet, the truth is that you are either nostalgic or biased, neither of which is a bad thing. Still, your smooth experience does not automatically equal the ultimate standard for everyone else.
Dark web marketplaces can be secure, customer-oriented, user-friendly, innovative, sophisticated, and functional, but not perfect. Hence, what does KingdomMarket have in store for its visitors? On the one hand, it comes bearing gifts when it comes to security with its enhanced phishing & DDoS protection. On the other hand, you will encounter some unpleasant surprises as well, such as a 1% deposit fee or the absence of Miltisig Escrow and wallet-free payments. Anyway, let's take a more detailed look at it to help you make up your mind.
Fair Warning
Naturally, the darknet was designed to promote freedom of speech and become a beacon for those who seek enlightenment without restrictions. However, this often forces the majority of platforms to stay under the radar. This kind of environment is fertile ground for a wide range of illicit activities. Thus, you need to educate yourself on the subjects of:
Keeping your privacy & security intact. There are many materials dedicated to using the Tor browser and VPN services, encrypting data with PGP, installing more private operating systems (Whonix/Tails), or transferring cryptocurrency. You will have to spend a substantial amount of time on Dread or Reddit (in case you prefer a surface web), but, in the end, this will be worth it.
Avoiding the devastating consequences of acquiring illegal goods and services. If you decide to indulge in such activity (it is not recommended, but the choice is still yours), you must be prepared to take responsibility and face the consequences of your actions, such as legal prosecution or damaged physical/mental health.
Links & Functionality
Main Features
| | |
| --- | --- |
| Date of birth | May 23, 2021 |
| Current Status | Running |
| Specialization | Universal (within the harm reduction policy framework) |
| URL | kingdomlszhob4eqpy6pfa527znppjemqe6ylvxmrwq4ca7z6rewzyqd.onion kingdomlwkmyuma5jsbhfm7d2oecp42fo24jj6kjrizrn2gegqokwgyd.onion |
| Short URL | dark.pe/king |
| Traditional Escrow | Yes |
| Escrow with Multisig | No |
| Accepted Cryptocurrencies | Bitcoin (BTC), Monero (XMR), and Litecoin (LTC) |
| Finalize Early (FE) | Yes, for eligible vendors (more than 1500 sales completed) + Pony & Orient Express delivery option (within 72 hours) |
| 2-factor authentication with PGP encryption | Yes (mandatory for vendors) |
| Vendor Bond | €400 |
| Deposit fee | 1% |
| Fees for vendors | 3% (withdrawal) |
| Wallet-free payments | No |
Important Note
This information was obtained in December 2022. This means that some of the details might not be valid if a significant amount of time has passed. Try to access the market's topic on Darknetpages.com to double-check the aspects that you consider essential.
Addressing Security & Privacy Concerns
Let's state the obvious, the darknet market is not an Amazon or eBay (even though you cannot say that these are free of scamming too). Therefore, a promise of safety and anonymity is as important as a wide product range or user-friendly interface. Let's state the aspects that KingdomMarket managed to handle with the due diligence:
It offers advanced phishing & DDoS protection (captchas, PIN, login phrase, mnemonic phrase + mirrors & PGP are provided for verification).
It presents an I2P link (a more anonymous solution) alongside the traditional .onion URL.
You are forced to disable JavaScript on your Tor browser before accessing the marketplace.
The wallet protection security system was designed from scratch by the website owners.
It supports a variety of cryptocurrencies, including Monero (for now, it is considered the most secure & anonymous of all).
You can opt for a desirable duration of your session (15/30/60/120 minutes or 24 hours).
The 2-factor authentication procedure is mandatory for vendors and strongly advised for buyers.
What does it lack?
Of course, you cannot have it all, and there will always be small details that do not meet your expectation or spoil your experience. So, what to pay attention to when it comes to KingdomMarket:
There is no Multisig escrow option or wallet-free payment, which lowers your chances of getting a refund or keeping your money in case of an exit scam or other troubles.
Communications and data are not automatically encrypted.
How to Compensate for It
The good news is you can nullify the threats by being smart about your actions:
Do not transfer more funds than you need to complete a particular transaction. Of course, do not keep any money in your built-in wallet. If you don't store the money there, you can't lose it.
Encrypt your messages and personal details manually. It's safer than automatic encryption anyway.
Getting Started
First, you ought to disable JavaScript in your Tor browser (click on the shield icon on the address bar → press the 'Change' button → switch your security level to 'Safest'). Now, it's time to solve the captcha, and it's not like anything you've seen before. Your task is to click on the content of the 9 squares in their logical (from first to last) and numerical order (1-9). The digits will be written in letters (e.g., one, first) or numerals (both Arabic and Roman, such as 2 and III).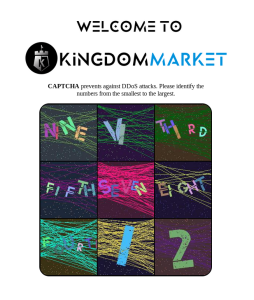 This solution is simple, yet effective. It's not rocket science if you are a human, but it will be tricky for hacking software. It might seem excessively complicated, but if you intend to handle cryptocurrency transactions, this procedure should not be a tough nut to crack for you.
Now, you are ready to create your account:
Fill in the blanks with username, password (x2), 6-digit PIN (to confirm transactions), login phrase (anti-phishing verification), and captcha.
Select your preferred currency if you like.
Proceed to your mnemonic phrase. This is the sentence you should use in case you need to reset your PIN and password or restore your account.
Enter login, password, and captcha. Choose the appropriate session time and log in.
Find your login phrase to confirm that you haven't been phished.
Go to your Profile to attach your PGP public key to your account. It will be used to encrypt your communication. Check the box below to enable 2FA. This is an extra security measure that forces anyone who attempts to access your account to enter a decrypted message alongside username, password, and captcha. This step is not obligatory but is strongly advised to provide your data with the protection it deserves.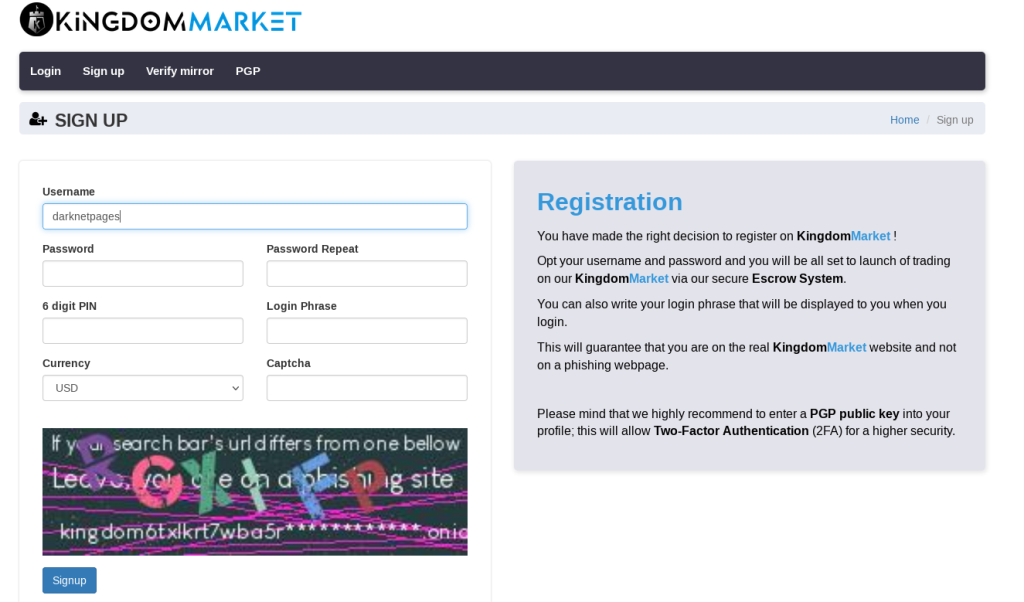 Darknet Security 101
Of course, under no circumstances should you put anything related to your real persona into the username, password, or login phrase. Moreover, you must store all the sensitive information, including your mnemonic phrase and PGP keys, in a safe place away from prying eyes.
Goods & Services
KingdomMarket is a vastly growing marketplace where all the major players are present. On the one hand, this provides you with the advantage of having almost anything you seek. On the other hand, it lures in scammers and other types of shady dealers, just like light attracts moths.
Luckily, a relatively high vendor bond combined with the platform's decision to ban vendors who are frequently reported as scammers increases your chances of getting a pleasant trading experience. In addition, the administration is not reckless and greedy, so, they adopted a harm reduction policy that imposes necessary restrictions on the listings that vendors are allowed to offer.
What to Look for

(Available Items)

What You Won't Find

(Banned Products & Services)

Drugs
Software & Malware
Security & Hosting
Guides & Tutorials
Fraud
Identification
Carded Items
Counterfeit
Jewelry
Services
Miscellaneous

Weapons
Child pornography
Murder or prostitution services
Navigating the Site
Just like Empire Market (which seized its existence due to an alleged exit scam), the platform decided to style its design to resemble the classic appearance of AlphaBay, one of the most popular markets of the past. Hence, its interface and layout are easily recognizable for the former audience of these websites. Plus, its patterns are essentially user-friendly: even first-time visitors can quickly figure out how to get things done around here.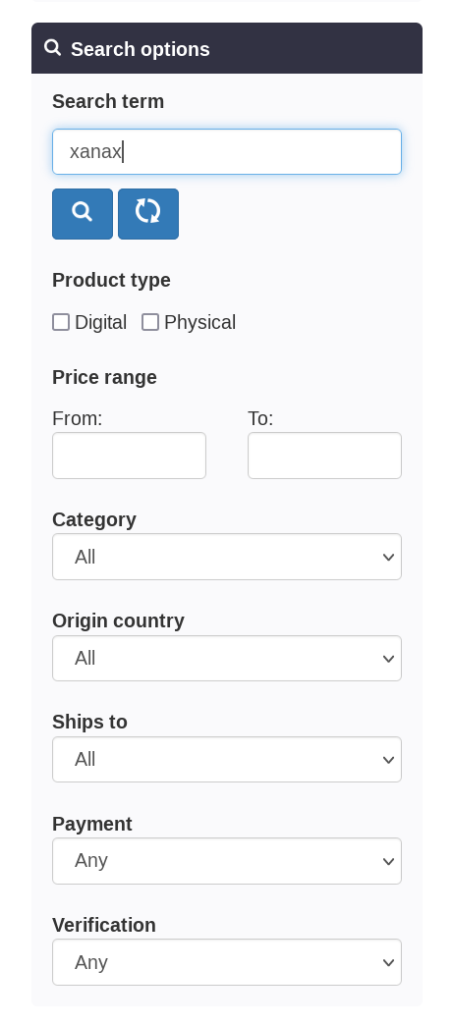 Let's investigate how you can find the items that match your requirements:
Unfortunately, there are no previewed subcategories on the website. So, you will have to rely on the search filters, such as product type, category/subcategory, ships from/to, accepted cryptocurrencies, price range, and verification (escrow or FE).
Scan the results for the ones that satisfy your needs in terms of available quantity, price, shipping origin/destination, supported cryptocurrencies, and payment methods.
When you take a closer look at the listings that caught your eye, do not forget to pay attention to the vendor's refund policy, feedback, rating, and statistics on KingdomMarket accompanied by the numbers from other popular sites. It might also be helpful to check how long the store's been operating and when the seller was last spotted online.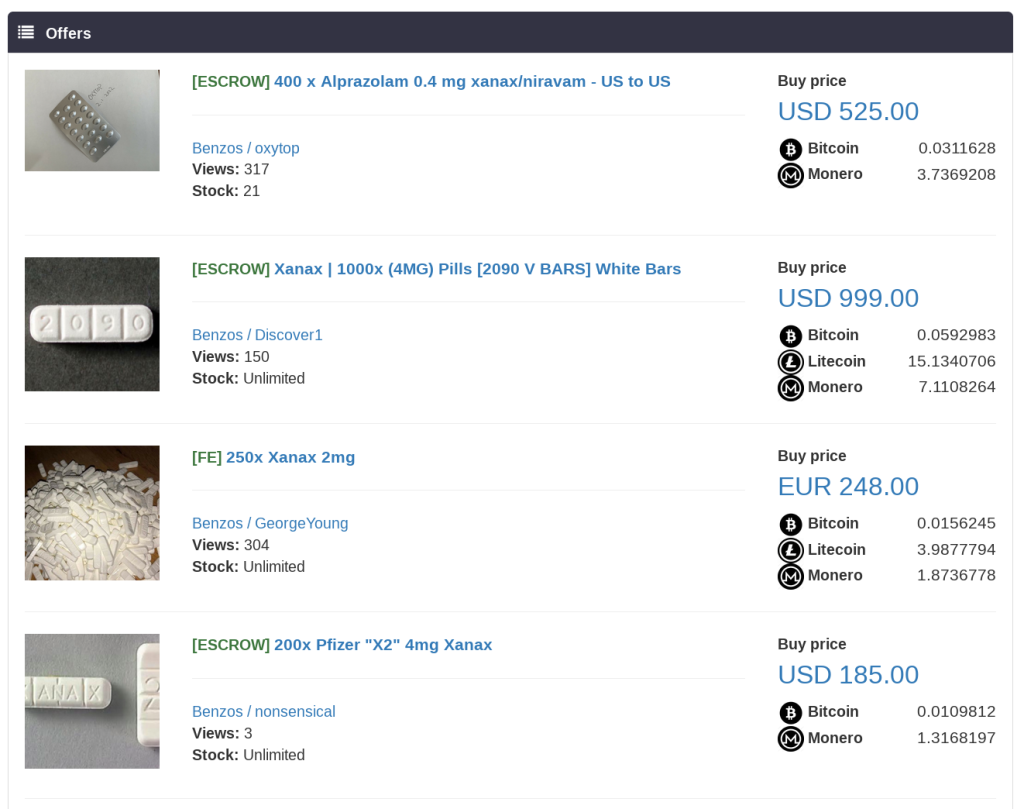 Order & Payment Process
For better or worse, KingdomMarket does not support wallet-free payments. Therefore, you have to transfer the funds from your cryptocurrency wallet to the built-in wallet on the platform. Here is the algorithm for this process:
Go to the 'Balance' section of your profile. Select the cryptocurrency you prefer: Bitcoin (BTC), Litecoin (LTC), or Monero (XMR). Note that Monero is considered a better option due to its enhanced privacy capabilities.
Use the deposit address to transfer the funds. Do not forget that the sum should include all the expenditures (e.g., shipping cost, 1% deposit fee, expenses related to the Bitcoin price fluctuations, etc.). Plus, check if this sum exceeds (or equals) the minimum deposit amount, and remember that the address is unique for every transaction – it should not be used more than once.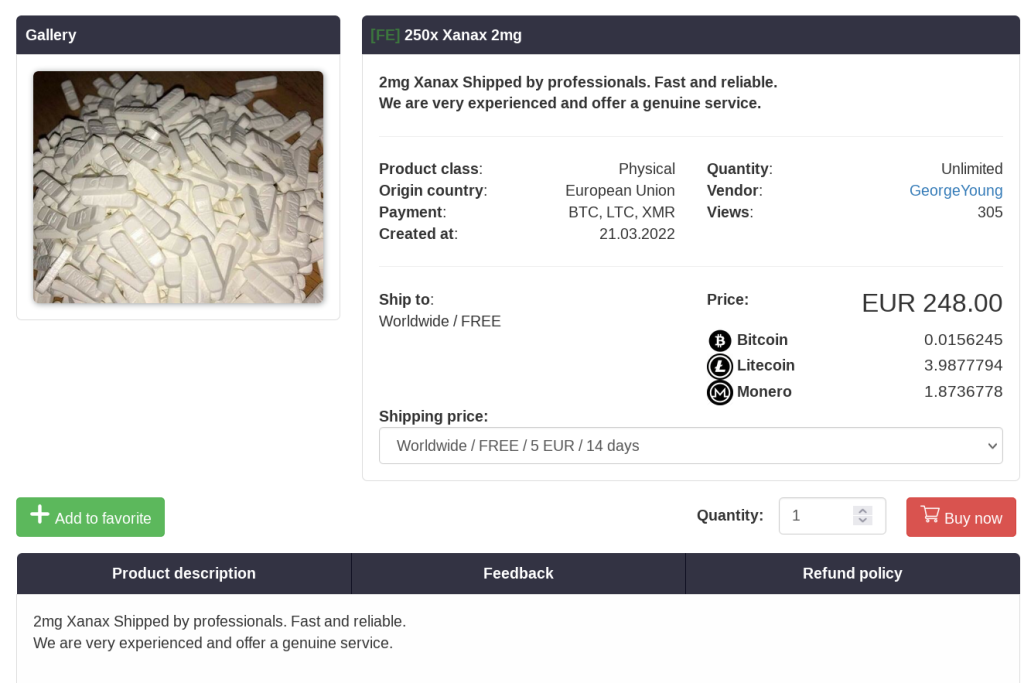 As soon as you have enough money to make a purchase, go to the listing you like to place an order:
Review the order's details carefully to spot possible mistakes or misunderstandings before it's too late.
Go to the vendor's profile and get the PGP key. Use the PGP tool of your choice to manually encrypt your shipping info. Keep in mind that it does not have to be your home address. You might just enter the location that is convenient for you to pick up this parcel.
Enter your PIN.
Choose the cryptocurrency you'd like to pay with.
Fill in a captcha.
Confirm your order.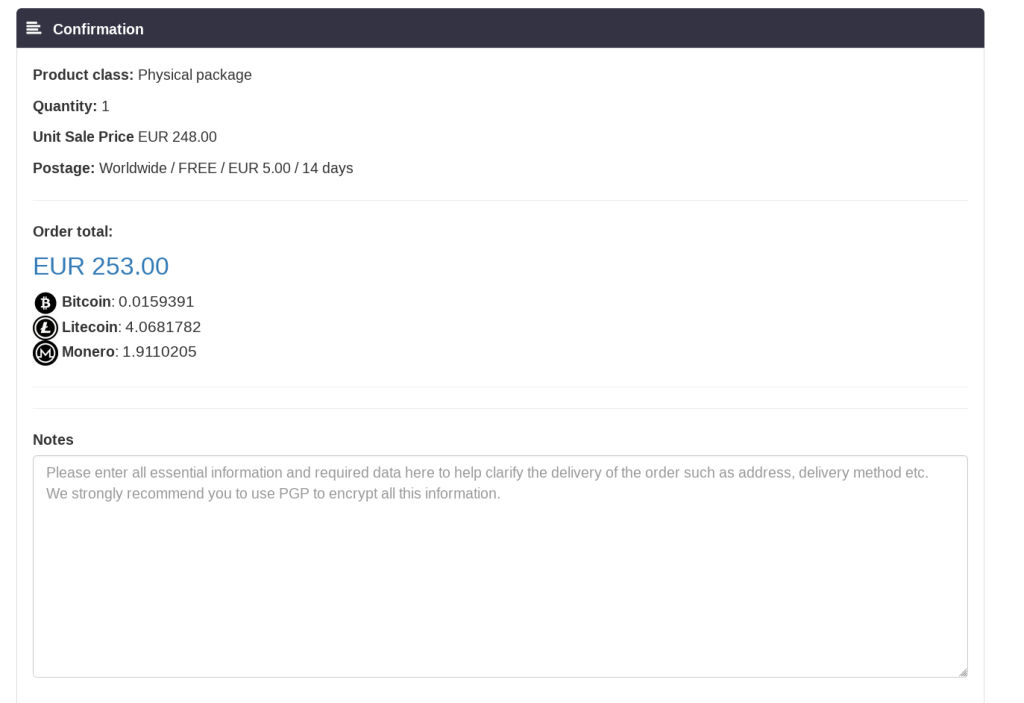 Escrow
This is the most secure one out of the available payment options. The scheme implies that your funds do not go directly to the vendor, but wait in the platform's escrow account until you finalize the order.
You can prolong the escrow period up to 14 days. If the situation isn't resolved, you can ask the seller for help or initiate a dispute. Of course, a peaceful negotiation option is preferable. So, try to discuss it with the vendor first.
In case everything went smoothly, and you are delighted with your delivery, mark your order as finalized to release the funds and let the seller get the reward.
Finalize Early
If you're in the mood of taking a shortcut, the market offers the FE alternative. In this scenario, the vendor gets the money as soon as the order is labeled 'shipped'. Naturally, not every vendor is eligible for this status (only those with more than 1500 sales). Still, you need to be careful and turn to this option only when you know and trust a seller.
Pony & Orient Express
This option really speeds up the delivery process. Provided that you live in a big city, such as London or Los Angeles, you can find the goods on your doorstep (figuratively, of course) within 72 hours. This means that vendors get the money as soon as they accept the order. As a result, you have to be extra cautious and pick only those sellers that you've already had a positive trading experience with when you plan to opt for this method.
Benefits vs. Shortcomings
Pros

Cons

Simple & easy-to-navigate design

Absence of Multisig escrow

Attention to security & privacy

No wallet-free payments

High standards for vendors

1% deposit fee for buyers

Many popular sellers & wide product range

 

A feature that can be viewed as both 'good & evil'

A peculiar captcha. It is effective, yet, some people might find it overly complex to solve.

Bonus

Support Center & referral program (30% commission)

Some listings turn out to be unavailable. Plus, some vendors have ratings and reviews only on other websites.
To sum up
Truth be told, you can bet your money on the most trustworthy and sophisticated darknet market, and the odds are you will still lose. If you're lucky, it will gracefully retire, but in the worst scenario, it will exit scam.
At first glance, KingdomMarket has no inherent fatal flaws that might soon lead to its demise. It was clearly developed by smart and knowledgeable people who managed to create a variety of helpful and unique features. Furthermore, they seem to have their hearts and minds in the right places. So, go on and give it a try, but be cautious and do not neglect the safety rules.