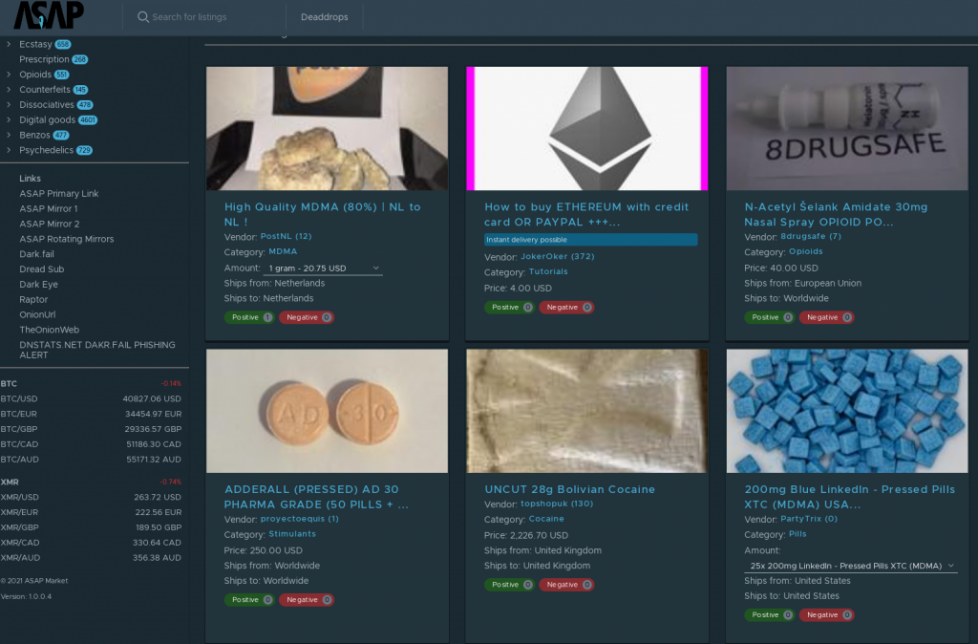 ASAP Market URL
http://asap4uleyx76rrblxktgupprn53wc3omtortfmkpnddljgbfrytzm4yd.onion
ASAP Market Status: Active
ASAP market
ASAP market is a relatively new darknet project. Initially, it was launched as ASEAN market but quickly underwent a rebranding. It hasn't become one of the largest and well-known darknet markets yet but it's quickly evolving and attracting more and more vendors and clients. From this market review, you'll get to know exhaustive and up-to-date information about ASAP: listings, anti scam measures, vendor fee, payment policies, exclusive features and other useful details. You'll learn about the objective strong and weak sides of this platform and its competitive benefits.
A Brief ASAP Market Review
This darknet market was launched in 2020 but its name already rings a bell with thousands of vendors and buyers from all over the world. As it was said above, initially it was known as the Asean market. 
It managed to take off because many other darknet markets closed, scammed or were shut down by the police (such as Dream market) and their users were looking for new credible platforms. 
Here, you can find not only drugs but also digital goods and counterfeit for sale.
A meaningful competitive edge of this market are its powerful security features that set the bar high for the whole industry — such as a scam hunter and a detector of fake reviews. Both will be discussed in detail in the corresponding section of this ASAP market review. 
At the end of 2020, ASAP got listed on dark.fail. For any darknet market, it's a milestone that proves its compliance with the highest quality standards.
ASAP became one of the first darknet markets to offer support for SegWit wallets, which helps users to save money. 
The Style and Design of the ASAP Market
We would like to keep this ASAP market review honest and impartial. So we'll say openly: compared to many other markets, this one doesn't strive to impress its visitors with stunning design. It uses dark mode by default. 
There are hardly any details on its main page that could catch your eye. The good thing is that you can check the total listings without signing in.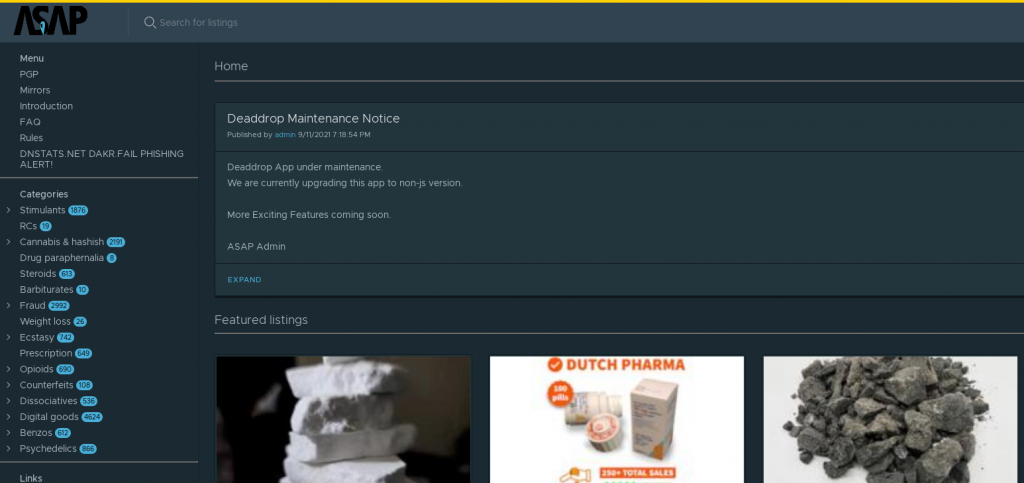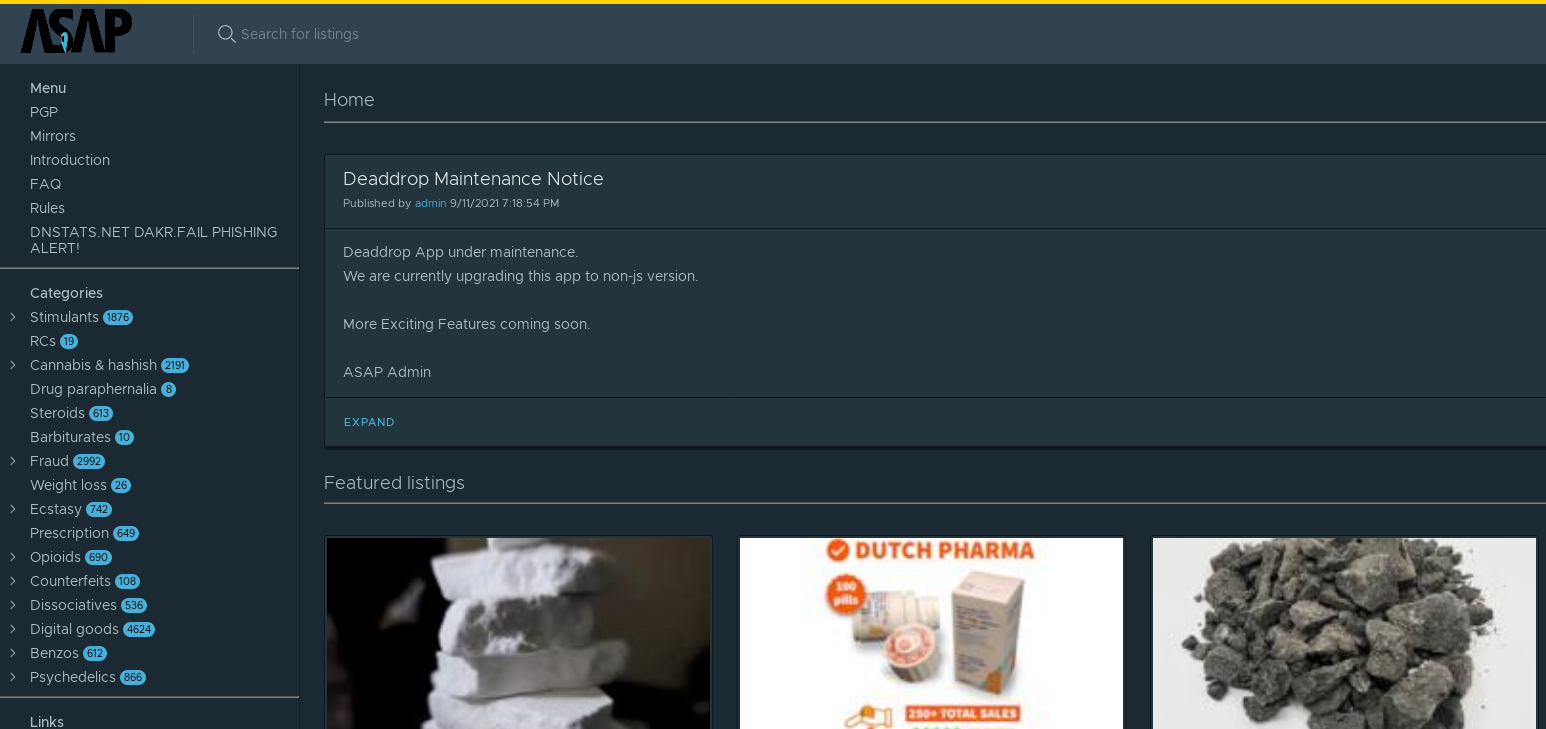 How to Access this Darknet Market
Like most other markets, this one requires you to install the latest version of the Tor browser and disable JavaScript in its settings. 
To disable JavaScript, follow these simple steps.
Type "about:config" into your address bar
Proceed through the warning and push the "Show All" button 
Search for the "javascript" preference
Change "javscript.enabled" option to "false"
After that, you can safely access the ASAP Market.
Why Do Some People Characterize the ASAP Market as Fickle
Some people complain that the main ASAP Onion mirrors might be down too often. Rotating mirrors update every half an hour, which means you shouldn't leave the market for more than 31 minute (otherwise, you'll need to log in to your account once again). 
Plus, when you enter the market, you have only 30 seconds to cope with the captcha.
ASAP Market on the Clearnet
The clearnet URL of the ASAP market is www.asapmarkets.co. Unlike the ASAP Tor URL, this address should work in any browser. However, you should use it only if your VPN is enabled. 
Plus, the clearnet URL might not grant you access to the ASAP market now, even though it used to do so before. If you fail to access ASAP from your regular browser, you should try rotating mirrors.
Don't Get Phished
For security reasons, you should never copy links that lead to this market from the clearnet. The only exceptions are links accompanied by PGP-signed messages from the market itself. Check ASAP Market links on their official site.
How to Register an Account
To create an account at the ASAP market (former ASEAN market), you should push the Register button in the top right corner. The market will redirect you to the following page where you'll need to indicate the following information.
Username
Password
Confirm password
PIN
Confirm PIN
Captcha
Mind that PIN and Password Reset options are no longer available, so you won't need to indicate your email or Jabber ID.
| | |
| --- | --- |
| Short URL | dark.pe/asap |
| URL | asap4uleyx76rrblxktgupprn53wc3omtortfmkpnddljgbfrytzm4yd.onion |
| Official URL | asapmarkets.co |
| Vendor bond | $400 |
| Vendor Fee | 5% |
| Launched | 2020 |
| Security Features | 2FA + PIN |
| Multisig | No |
| PGP | Yes |
| Payments | BTC and XMR |
| Products | 8000+ listings |
How to Add a PGP Key to Your Account
Following these simple steps.
Hover over the Profile option in the top right corner 
Click Security
Scroll down to the text box 
Paste your public key
Check the Enable 2FA box 
Click Change PGP/2FA
Copy the PGP encrypted message and paste it into your PGP client
Decrypt the message
Paste the string of letters and numbers onto the Verification Token line
To finalize the process, click Verify.
ASAP Market Listings
Updated 17 Oct 2021
At the moment of this ASAP market review being written, there were over 14.000 listings available for sale:
Stimulants (1876)
RCs (19)
Cannabis & hashish (2191)
Drug paraphernalia (8)
Steroids (500)
Barbiturates (10)
Fraud (2992)
Weight loss (26)
Ecstasy (742)
Prescription (649)
Opioids (690)
Counterfeits (145)
Dissociatives (478)
Digital goods (4601)
Benzos (483)
Psychedelics (866)
The Digital Goods category includes such subcategories as Data Hacking, Information, Security, Software, Tutorials and Other. 
In the Counterfeits section, you can purchase currency, gold and jewelry. 
In the Fraud category, vendors offer bank accounts, credit cards, physical goods and other related items.
ASAP Market Product Selling Restrictions
On the ASAP market, you won't be able to purchase the following types of items:
Contract killing, harmful or violent products or service
Guns or other weapons which discharge high velocity rounds, maim human beings or animals in any way shape or form
Explosives, precursors or any chemical used to produce explosives or devices
Child, animal and violent pornography
Human trafficking
Human or animal organs and/or body parts
Livestock (any animal living or deceased)
Deadly poison
Lab research virus
Fentanyl
Western Union transfer
Credit card transfer 
ASAP market seems to be more ethical than some of its competitors who have shorter lists.
Placing an Order on ASAP market Onion
Follow these simple instructions.
Select an item that you want to order on this market.
Make sure the vendor is ready to ship it to your location.
Click Add to Basket.
Click the Basket tab to check whether you added the correct number of items.
Review the subtotal before shipping fees are added and push the Checkout button.
Pick an optimal shipping option. 
Select a payment option.
Enter your shipping information into the text box below.
Indicate your PIN.
Double-check whether all the information is correct and click Place Order.
The vendor will be alerted about a new order immediately. 
For security reasons, clients should encrypt their shipping data with their PGP keys. It's not obligatory, but we think we should mention it in our ASAP market review. 
To complete the encryption, you should right-click on the vendor name. The page of the person who sells the items you need will open in a new window. There, you should click the PGP tab. Import the seller's public key into your PGP client and carry out the encryption.
ASAP Market Payment Policies
At the ASAP market, you can pay for your purchases with either Bitcoin (BTC) or Monero (XMR). The latter payment option is safer because it doesn't record the origin and destination of funds to its blockchain.
The smallest sum of money that you can deposit to your account is 0.0005 BTC or 0.06 XMR, which is rather affordable.
If you send a smaller sum to your account, you'll lose your funds. This measure helps ASAP market to prevent "dust attacks" that hackers might use to reveal information about addresses.
To successfully deposit Bitcoin, you'll need 2 confirmations. For Monero, you'll need 10 confirmations.
Unfortunately, ASAP market is not wallet less. The term "wallet less" means that the platform relies on an old-school central wallet system. Each user gets a unique deposit address. Once a user deposits funds, they will be held by the market.
Such an approach might create a potential security breach or even an opportunity for an exit scam. On the other hand, there haven't been too many complaints about the security of payments so far, so the problem seems to exist only in theory.
In your basket, you'll be able to see the item cost in dollars, BTC and XMR. To check the current exchange rates of both cryptocurrencies, scroll down the page and look in the lower-left corner.
Bitcoin doesn't guarantee 100% anonymity of financial transactions. Instead of sending your money directly from your BTC wallet, you might want to use a mixing service, like Wasabi Wallet or ChipMixer.
FE Orders at ASAP Market
This acronym stands for "finalize early". This option is available only to the most reputable vendors of the ASAP market. The buyer can finalize an order immediately after it has been marked as shipped by the vendor. This enables the vendor to receive the money quicker.
Some vendors sell items on the market ASAP only on the FE principle. In other words, they won't ship your purchase until you release their funds.
Withdrawal Policies on ASAP Market
To withdraw funds from the ASAP market, you need to meet the minimum requirements: 0.0009 BTC or 0.06 XMR which is a rather affordable sum. No withdrawal fees are mentioned on the ASAP site, so probably the market won't charge you for this transaction. 
Fake Review Detector and Other Security Features
ASAP market is famous for its security features. One of them is the fake review detector. It's an algorithm that helps to detect fake reviews and get rid of them. This increases the credibility of vendors' ratings.
Another custom-made algorithm of this market is its scam hunter system. It seeks out buying and selling behaviors that are typical of scams. When the administration reveals an offender thanks to the scam hunter, this person won't be able to sell anything in the shop anymore. 
To warn other users, the team of the market will spread the word about him or her on various industry forums and subs, to rightfully tarnish his or her business reputation.
In addition to the usual two-factor authentication, extra security features include an authorization code for logging in and a secret phrase for account recovery. Also, there is a secret PIN that is primarily required for money withdrawals.
Finally, there is another nice feature that is not related to security — a loyalty program. Regular clients who have purchased considerable amounts of goods can join it via invite. Thanks to the program, they will get access to especially lucrative deals.
ASAP Market Official DeadDrops
Vendors and buyers can rely on this option to drop and pick up products anonymously. While doing so, they'll be able to do the following.
Use an in built map 
Mark drop zones
Check surveillance camera reports
Keep their identities entirely safe
ASAP is known as the only market that features official and in-built DeadDrops, available in over 23 languages.
Getting a Vendor Account on ASAP Market
If you want to become an ASAP vendor and sell items, you should be ready to pay a $400 non refundable one time fee. Plus, each vendor pays a 5% commission on all sales they make. The buyer pays no commission. 
But in the FAQ section of the ASAP market, you can find an encouraging detail: "Vendor fee is negotiable, show us your sales". This means, if you sell a lot, you might need to pay a lower fee (up to 2%).
ASAP Market Vendor Transparency
The level of vendor transparency on the ASAP market can be characterized as sufficient. Potential buyers can easily check the number of sales each vendor has made, the date of their registration on the market and their last active date. Also, customers can read positive, negative and neutral feedback for each vendor.
However, unlike some other markets, ASAP doesn't reveal the number of disputes won or lost by the vendor. Product listings don't reveal the number of sales on any of the products either.
To Round Up This Market Review
Hopefully, this ASAP market review came in handy and now you have a better vision of this project. A platform that was initially launched as ASEAN market is growing quickly and is turning from an ambitious newcomer to a genuinely great site. Its total product stock is continuously expanding. Compared to most darknet markets, this platform is more feature rich. Users love it for its official DeadDrops, excellent scam hunter and other security features. Unfortunately, the ASAP market is not wallet less and its mirrors might be a bit fickle. Nevertheless, it's a good platform both for a vendor who wants to run a stable business and a client who wants diverse listings and safe payments.