DarkFox Market Link
DarkFox market is not a newly emerged platform. Still, its popularity skyrocketed only recently due to the continuous trail of the darknet marketplaces fleeing the scene for various reasons.
It does not offer wallet-free payments or accept Monero as a currency. But it presents its users with a multitude of other peculiar features and traits:
a wide selection of products, especially credit cards;
user-friendly design & advanced search options;
no JavaScript;
no registration is required if you are 'just browsing' without making a purchase.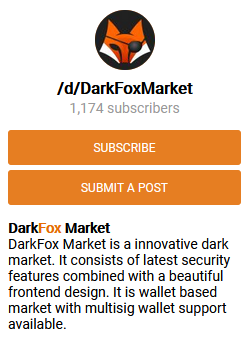 Primary Features & URLs
| | |
| --- | --- |
| Launched | January/February 2020 |
| Current status | Running |
| URL | http://darkfoxbvqvryrdinmzz5h4i4gpkvwpgxyuh65aj75dbifgakt6czwad.onion/ |
| Short URL | dark.pe/dfox |
| Specialization | Suitable for all purposes (has a special store for cards with autoshop) |
| Number of listings | ~ 51 000 |
| Traditional Escrow | Yes |
| Escrow with Multisig | Yes |
| Accepted cryptocurrencies | Bitcoin (BTC) |
| Finalize Early (FE) | Yes (50% or 100%) |
| 2-factor authentication with PGP encryption | Yes |
| Mandatory PGP encryption | No |
| Vendor bond | $150 (can be waived for the sellers with at least one sale on other markets) |
| Commission | 5% (traditional escrow) or 4% (multisig escrow) |
| Commission for withdrawals | 1% (+ network fee) |
| Wallet-free payments | No |
Important
The data was collected on 13 July 2022. Hence, there is a risk that this info might be too old or invalid. So, you should check the official website (see the links below) and look for the relevant updates.
(main and anti-DDoS link)
http://darkfoxbvqvryrdinmzz5h4i4gpkvwpgxyuh65aj75dbifgakt6czwad.onion/
Dos & Don'ts of the Darknet Marketplaces
Safety comes first. This is dark web browsing 101. Law enforcement operations, exit scams, or DDoS attacks can abruptly end up the life of any marketplace. Plus, let's not forget about phishing and other forms of scouting for your funds and data.
Indeed, many platforms strive to be known as trustworthy and reputable. However, given the shady nature of the business, unfortunate events are bound to happen. So, if you wish to avoid these troubles, keep in mind the lists of things that you should and should not do.
| | |
| --- | --- |
| Dos | Don'ts |
| ✓ Install Tor browser with disabled JavaScript | ✗ Add your personal information to your profile or credentials |
| ✓ Choose a 'no logs' policy VPN service | ✗ Store your PGP keys, mnemonic, password, or PIN where other people can see it |
| ✓ Keep your darknet activity separated by using a dedicated operating system with enhanced privacy capabilities, such as Tails or Whonix | ✗ Access the website through links from unverified sources. For instance, you can always find a working link to the DarkFox market on Dark.pe or Darknetpages.com. Plus, almost all the platforms publish their PGP keys and mirrors for users to help confirm if it is the correct URL |
| ✓ Manually encrypt your communication & data with a trustworthy PGP client | ✗ Strike a deal with someone without conducting a proper background search and checking reviews & ratings |
| ✓ Select a reputable platform to make cryptocurrency deposits (for Bitcoin transactions, the most popular option is Electrum) |   |
Word of advice
In case you are inexperienced with the dark web rules and etiquette, you can obtain an extensive amount of knowledge through reading and learning. Many darknet and even clearnet resources contain comprehensive guides and instructions on operation security, cryptocurrency payments, and darknet markets
Account & Settings
The market's registration process might be a bit more demanding than the one on Amazon or eBay, but for a darknet marketplace, it is a pretty standard procedure. Indeed, you cannot sign in with Google or Facebook. Yet, your goal here is to keep your deals safe & anonymous:
Confirm that your link is the correct one and enter the captcha to access the website.
Find a Register button and click on it.
Fill in the form with username, password (x2), PIN (x2), referral code (if available), and captcha.
Press '+ Register'.
Write down your mnemonic and save it someplace safe. This word combination is the only way for you to restore your account in case something goes wrong.
Enter your credentials and captcha to log in.
To achieve the advanced security level, you have to adjust your PGP settings:
Go to your account name and select the PGP tab.
Paste your public PGP key into a corresponding text box.
Press 'Add key'.
Use your PGP client to decrypt the message in the text box and get a verification code.
Click a 'Verify key' button.
Go to the '2FA' section (it's right after the PGP one) and enable 2FA to make access to your account even more perplexing for intruders, hackers, and other malicious users. Now, besides your standard credentials, you have added decrypting a message with your private PGP key as a part of the log-in procedure.
If you have already made up your mind about your future purchases, you can click on the Wallet tab and make a deposit:
Copy your bitcoin link and send money to it from your personal e-wallet. Make sure that you transfer the exact amount of cryptocurrency to cover your expenses, the commission included (the minimum deposit is 5.0E-5 BTC). Try not to deposit more than you need to avoid the unnecessary risk of losing your funds in case of an exit scam or other sudden misfortune (the minimum withdrawal amount is 0.0005 BTC).
Wait for two confirmations from the network.
Check your balance to see if the transaction is complete.
Sidenote
In case you opt for a Multisig Escrow, you should open a Multisig tab. The procedure is quite similar. Still, you'll have to get 6 confirmations from the network. Plus, you'll need your Bitcoin public key (your refund address will be required only to transfer your money back, so you can receive a refund).
Browsing & Purchasing
The market truly shines when it comes to its extensive product range and advanced search options. There are three major mechanisms employed that can help you sort out the best available options.
Categories & Subcategories
Drugs (account for almost 50% of all the products). Cannabis (weed, edibles, etc.), Barbiturates, Psychedelics, Benzodiazepine, Dissociative drugs, Steroids, Reagents, Stimulants, Ecstasy, Opioids, Paraphernalia, Research chemicals, Prescription, Drug precursors, Tobacco, Weight Loss, etc.
Fraud. Cards & CVV, Accounts & Drops, Dumps, Data & Scans, Personal info, Business checks. You can also buy credit cards instantly in the dedicated Cards Shop section of the upper menu (thanks to the autoshop feature).
Guides & Tutorials. Fraud, Drugs, Hacking, Security, etc.
Digital products. Databases, Accounts, E-books, Leaks, Software keys.
Counterfeit items. Money, Clothing, Fake IDs, Jewelry & Gold, Electronics, Tobacco, etc.
Software & Malware. Fraud, Malware, Security software, Exploits & Exploit kits, Crypters, Botnets, Rats, etc.
Services. Carding, Hacking, etc.
Erotica. Accounts, Videos & Photos, etc.
Miscellaneous.
Hosting & Security. Hosting, Socks, VPN.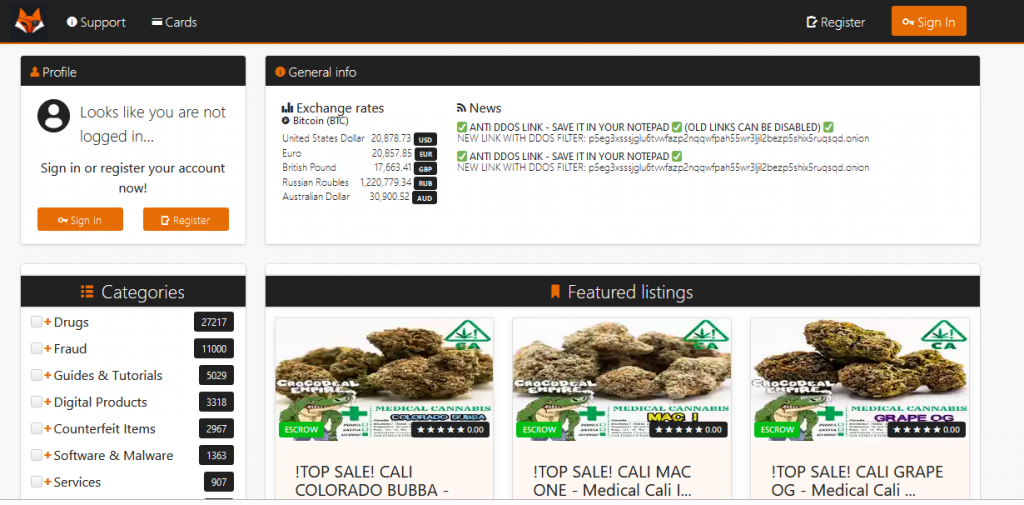 Product Search
Search options:
Keywords;
Type (digital/physical);
Price;
Payment options;
Vendor level;
Ships from/to.
Filters:
Exclude vendors on vacation.
Automatic fulfillment.
Available items in stock.
Price.
Popularity.
Latest/oldest.
Sidenote
The Cards Shop has its own enhanced set of filters/options (e.g., BIN, city, country, state, zip, etc.).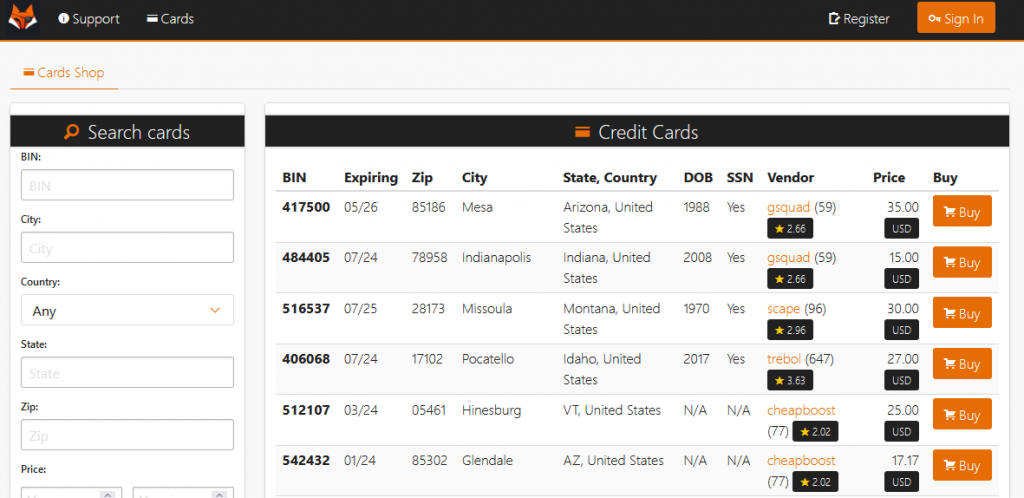 Vendor Search
Search options:
Username;
Vendor level;
FE status.
Filters:
Vendor since;
Last login.
This wide selection of search tools combined with a genuinely user-friendly and intuitive interface will make it effortless for you to find the goods or services that match your criteria. However, harm reduction practices are now deeply rooted in the dark web community. Hence, keep in mind that there are some products that you won't be able to acquire on the DarkFox market:
child pornography or bestiality;
firearms, ammunition, explosives, or poisons;
murder for hire;
living creatures, including their body parts & organs (humans and animals alike).
Anyway, regardless of what item you strive to buy, you must conduct proper research by scrupulously studying both product & vendor pages. Thus, before placing an order, do not forget to check:
seller's level, experience, rating, and reviews;
product's rating & reviews;
destinations that this vendor is eager to ship to;
merchant's last activity (it should be recent);
product's available quantity;
shipping & payment options;
refund/return policy;
price.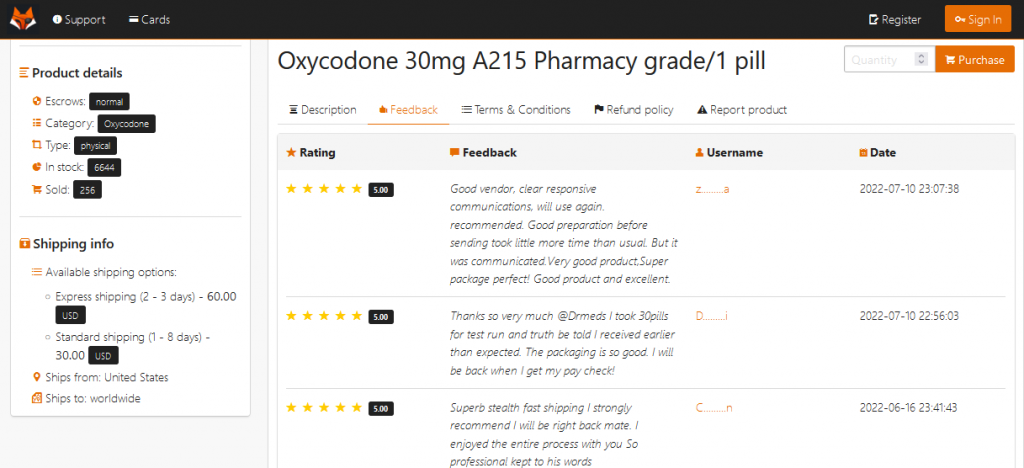 When you discover the item that sparks you with enthusiasm, it's time to initiate the purchasing process. Naturally, it is rather straightforward. You just keep in mind several aspects:
Manually encrypt your shipping address or other personal details/messages using the vendor's PGP key.
Carefully review your order to make sure that it checks all the boxes, such as quantity, total price, shipping option, etc.
Keep your PIN nearby to confirm the order.
Payment Process
You already know that before placing an order, you have to make a deposit to your account that will be sufficient to cover your expenses. If you have enough money in your built-in wallet, the required sum will be charged immediately after you confirm your purchase. But what happens next? Let's find out.
Escrow (Traditional or Multisig)
When the money leaves your account, they are held in the platform's special escrow account until the order is marked as finalized. The difference between Traditional & Multisig Escrow is that the latter requires 2 out of 3 signatures from the participants to release and move the funds.
The platform isn't particularly picky with its sellers in general. It accepts vendors with just one item sold in other markets. So, Escrow will probably become your preferred option for most of the purchases. Plus, selecting a Multisig method significantly boosts your chances of getting a refund in case something happens with the seller or the marketplace.
All escrow orders get autofinalized after 7 days, plus the maximum shipping time. Still, try to mark the order as complete as soon as you receive your product. It is impolite to keep vendors waiting for their rightfully earned money.
If you have complaints about your order or delivery, try approaching the seller first. If you fail to reach an agreement, open a dispute. DarkFox moderators will be mediators between all the parties involved and pass a final verdict on the situation.
Finalize Early
FE procedure can speed up and simplify your deal because vendors get their remuneration as soon as the order status changes to 'shipped'. Of course, FE is a privilege that vendors have to earn. Yet, the implications of this business model can be rather grave, considering that there is almost no chance that you will get a refund if something doesn't go as planned.
Thus, choose your sellers carefully, opt only for those who you are familiar with or those recommended by a reliable source. In case of doubts, select 50% FE (vendor will receive the other half of the payment only after the order is finalized) or even Escrow.
The credit cards autoshop feature utilizes the Finalize Early scheme as well. Yet, the FE status is not required. Purchased items are sent instantly to your account after the transaction is complete.
Final Thoughts
Overall, the DarkFox market is just like its mascot. This pirate-looking fox definitely knows how to handle illegal trading or borderline activities, but it is clear that he prefers to approach it in an old-fashion way.
It doesn't offer Monero or direct wallet-free payments. Yet, it is an easy-to-navigate, JavaScript-free platform with traditional & Multisig payments, 2FA with PGP encryption (it isn't mandatory, but it is available), and a half or full FE deals. Plus, its unmatchable product range alongside a multitude of advanced search instruments can compensate for a lot.
Naturally, the folklore surrounding the darknet marketplaces can be quite intimidating and even tarnish their reputations. However, if you are smart, patient, capable of learning, cautious, and rational, you will figure out how to manoeuver in these dangerous waters safely in no time.